Banks which are exploring blockchain solutions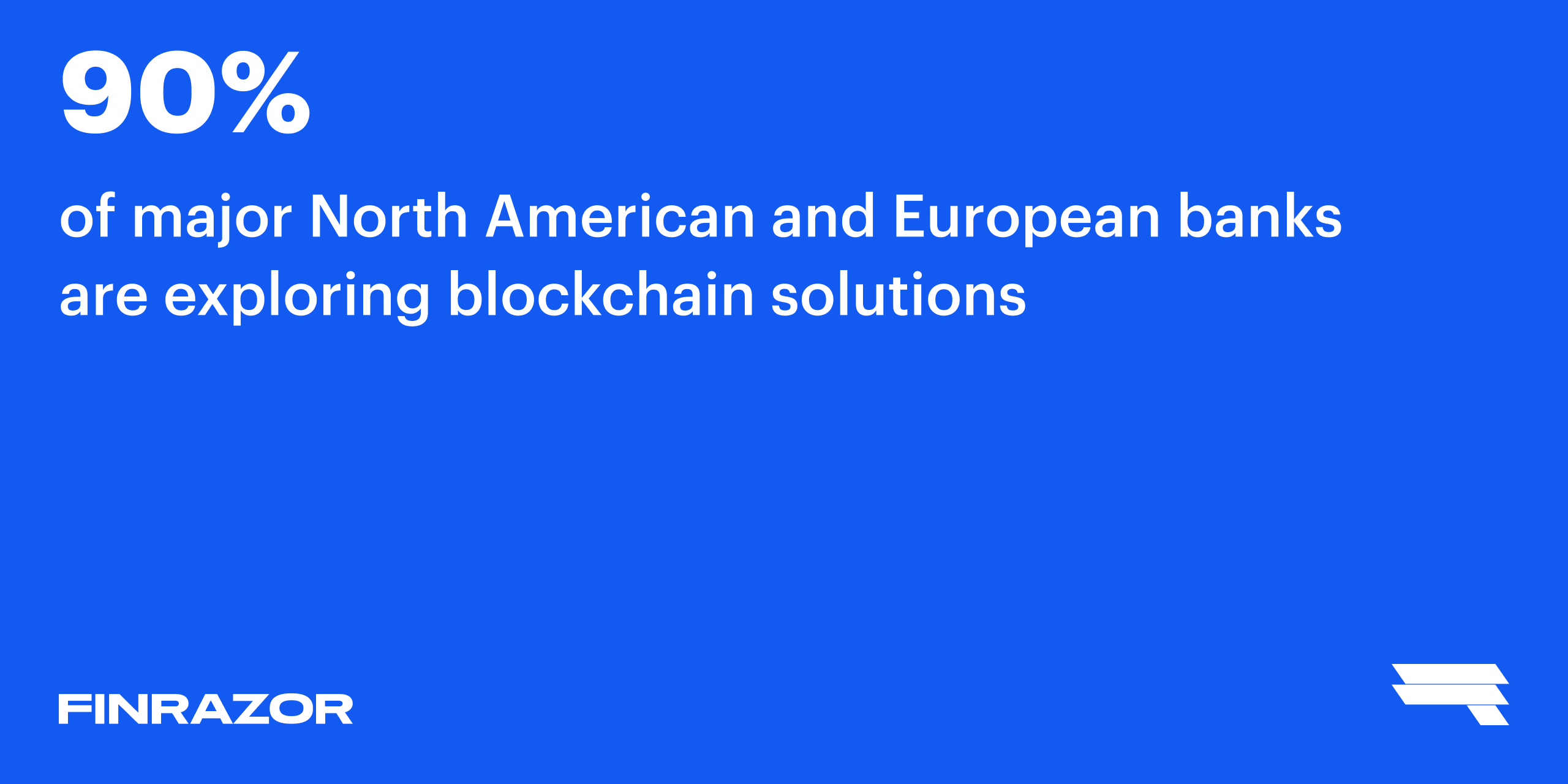 9 out of 10 North USA and EU banks are already exploring blockchain solutions
Related news
Co-founder of Yahoo Jerry Yang described Bitcoin and blockchain in bullish terms at the Nikkei Innovation Asia Forum, and… The post Yahoo Co-Founder Jerry Yang Says Blockchain Has "Important Applications for Banking and Finance" appeared first on Invest In Blockchain.
India: Banking Research Institute Issues Blueprint on Blockchain Implementation India's Institute for Development and Research in Banking Technology (IDRBT) has published a blueprint on blockchain implementation in the banking sector, Indian daily newspaper the Financial Express reported on Tuesday, Jan. 22. IDRBT was established by the Reserve Bank of India (RBI) in 1996 in order to conduct research and experiments in… The post India: Banking Research Institute Issues Blueprint on Blockchain Implementation appeared first on Altcoin Today.
One of the biggest players that are leveraging the blockchain technology is US space agency NASA in order to curb the cyber attacks in aerospace agents. And now, the agency is considering using the benefits of blockchain technology to control air traffics. NASA engineer Ronald Reisman and the agency believes blockchain technology could be used to put a stop to the spoofing and the denial of the service attacks that are present in the American air-traffic control systems. Earlier this month, United States National Aeronautics and Space Administration (NASA) proposed a paper on "Air Traffic Management Blockchain Infrastructure for Security, Authentication, and Privacy." Blockchain For Security, Authentication, & Privacy Of Air Traffic The official paper notes, "The design innovation is the use of an open source permissioned blockchain framework to enable aircraft privacy and anonymity while providing a secure and efficient method for communication with Air Traffic Services, Operations Support, or other authorized entities." The paper further talks about what it constitutes, "This framework features certificate authority, smart contract support, and higher-bandwidth communication channels for private information that may be used for secure communication between any specific aircraft and any particular authorized member, sharing data in accordance with the terms specified in the form of smart contracts." Aviation Blockchain Infrastructure For Communication Talking about the national adoption of Automatic Dependent Surveillance-Broadcast (ADS-B), that is mandated by the FAA system by 2020, Reisman writes, the system is at risk of privacy, anonymity, authentication, and resistance to malicious interference, including spoofing and/or denial of service attacks. However, the blockchain prototype has the design and method to mitigate these security risks. Hence, NASA is reportedly planning to use the open-sourced permissioned blockchain framework to fix these vulnerabilities. The proposed ABI, "Aviation Blockchain Infrastructure" is a design that enables aircraft to communicate privately, securely, and effectively with air traffic management along with other authorized entities. The blockchain infrastructure could help them secure and improve communication and minimize the risks. However, now, the next steps in the process are the development and demonstration of ADS-B modification that satisfies the privacy concerns of military and corporate stakeholders. So, it remains to be seen if it will integrate blockchain technology into their (ADS-B) system to track air traffic.