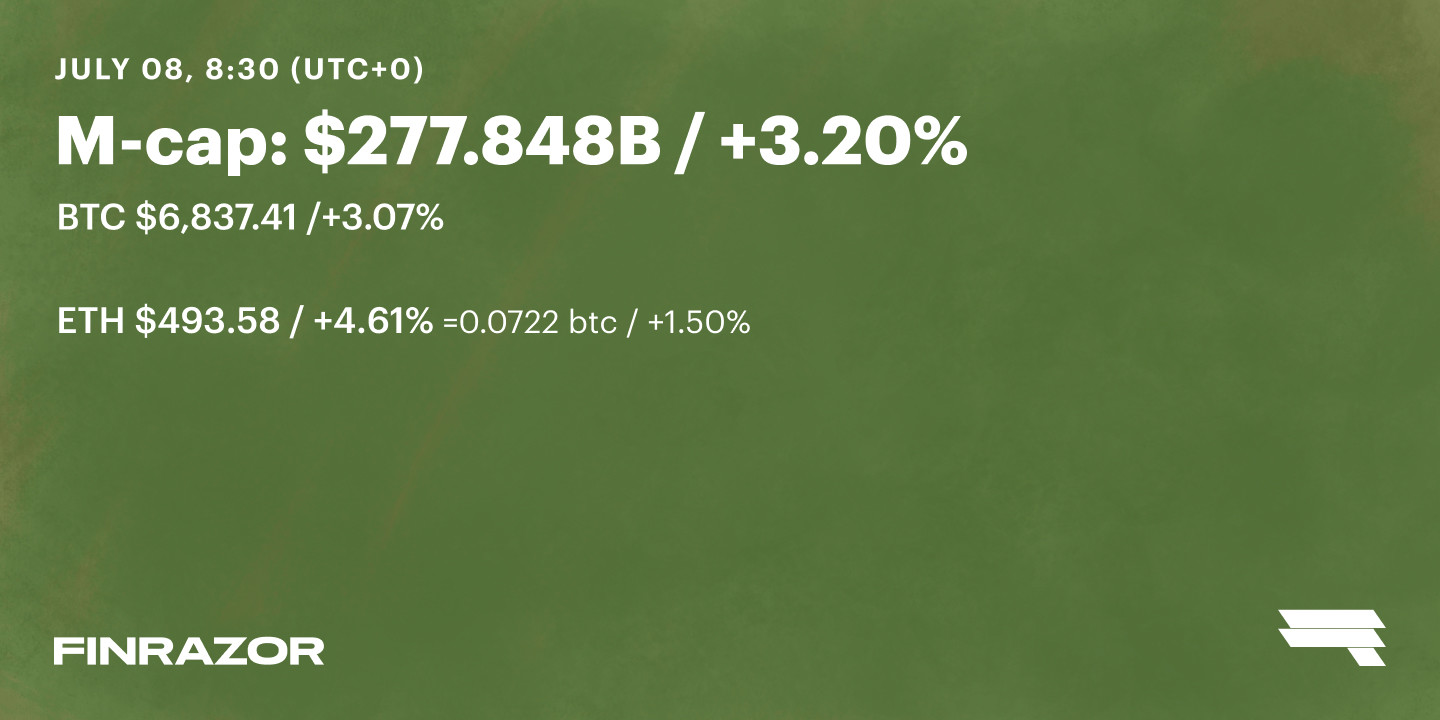 Positive trends persisted: the market is stable green
Related news
The total crypto market cap declined towards the $235.0B level and recently corrected higher. Bitcoin price is also correcting higher, but it is facing hurdles near $9,800 and $10,000. Binance coin (BNB) price recovered more than 10% and broke the $27.00 resistance area. Litecoin (LTC) price rallied recently above the $80.00 and $85.00 resistance levels. BCH price is slowly approaching towards the key $300 resistance area. Tron (TRX) price is up around 10% and it is currently trading above the $0.0220 level. The crypto market cap and bitcoin (BTC) are currently near an important juncture. Ethereum (ETH), BNB, litecoin, ripple, BCH, TRX, XLM and EOS are showing signs of a short term recovery. Bitcoin Cash Price Analysis After a sharp decline below the $300 level, BCH price found support near the $270 level against the US Dollar. The BCH/USD pair started an upside correction and traded above the $280 and $290 levels. It seems like the price is slowly recovering and it could soon test the key $300 resistance level. If there is an upside break above $300, the price could correct towards the $320 level. If not, the price is likely to decline again below the $290 and $280 level in the near term. Binance Coin (BNB), Litecoin (LTC) and Tron (TRX) Price Analysis Binance coin (BNB) price found strong support near the $24.00 level and it recently started an upward move. BNB price broke the $25.00 and $26.50 resistance levels. It even broke the $27.00 resistance and it may soon test the $27.50 resistance level. Litecoin price found support near the $75.00 level after a massive decline. LTC price jumped higher recently and broke the $80.00 resistance level. The price is up more than 12% and it is approaching towards the $92.00 and $95.00 resistance levels, where sellers could emerge. Tron price tested the $0.0200 support level and recently corrected higher. TRX price is up around 10% and it broke the $0.0215 and $0.0220 resistance levels. The next key resistance on the upside is near the $0.0230 and $0.0232 levels. Looking at the total cryptocurrency market cap 4-hours chart, there was a downside extension below the $250.0B support area. The market cap moved towards the $235.0B level and formed a swing low at $234.9B. It recently corrected higher and broke the $245.0B and $250.0B resistance levels. However, there is a strong resistance formed near the $260.0B level and a bearish trend line, which is currently acting as a barrier. If there is an upside break above the trend line, there could be a decent comeback n bitcoin, Ethereum, EOS, litecoin, ripple, binance coin, BCH, TRX, XMR, XLM and other altcoins in the near term. Bitcoin & Crypto Market Near Key Juncture: LTC, BNB, BCH, TRX Analysis was last modified: July 18th, 2019 by Aayush JindalThe post Bitcoin & Crypto Market Near Key Juncture: LTC, BNB, BCH, TRX Analysis appeared first on NewsBTC.
🛑 CONGRESS: "Bitcoin Good, Libra Bad" 🛑 Ray Dalio Paradigm Shift *ByBit Exchange:* ​​http://bybit.ivanontech.com (GET $60 FOR FREE WHEN DEPOSITING 0.2 BTC). Some countries might need to use VPN to access Bybit (if your laws allow that) *Learn Crypto Programming:* http://academy.ivanontech.com *Crypto Domains (Hurry)*: http://domains.ivanontech.com *Join Telegram Discussions*: https://t.me/ivanontechvip 😍 WANT TO BE SEEN ON THE CHANNEL? 👉 EMAIL contact@ivanontech.com 🚀 JOIN ACADEMY 👉 https://academy.ivanontech.com 💥 JOIN TELEGRAM GROUP 👉 https://t.me/ivanontechvip 💰 GET $10 TO BUY YOUR FIRST CRYPTO: https://www.coinbase.com/join/59d1738ff36136022bd9ee10 🏆 BUY PHYSICAL BULLION GOLD: http://www.bullionvaultaffiliate.com/ivanli/en 📈 BEST ALTCOIN EXCHANGE: https://www.binance.com/en?ref=35933746 🔐 BEST WALLET: https://www.ledger.com?r=5a56aa023b40&tracker=IOT Good Morning Crypto 🚨 Want to be a Sponsor? EMAIL contact@ivanontech.com 🎓 Join my online academy https://academy.ivanontech.com 👬 Join the crypto discussion forum - https://forum.toshitimes.com 📣 Join Telegram channel https://t.me/joinchat/AAAAAE2xJE4l8xhC8MU4cg 🎤 If you would like me to speak at your conference, book me here: https://ivanontech.com #bitcoin #blockchain #ivanontech 👫👭👬Social: LinkedIn: http://linkedin.com/in/ivanliljeqvist/ Instagram: http://instagram.com/ivanontech/ Steemit: https://steemit.com/@ivanli Facebook: http://facebook.com/ivanontech/ DISCLAIMER: This is NOT financial advice. This is just my opinions. I am not responsible for any investment decisions that you choose to make. Ivan on Tech is all about cryptocurrencies and the technology behind Bitcoin, Ethereum, Litecoin, Ripple, IOTA. We also cover Bitcoin price, altcoin price, investing, analytics, different altcoins. Ivan on Tech by Ivan Liljeqvist
The Libra hearing has been one of the most enticing topics as media houses from all over the world aired the live hearing before the US House Committee on Financial Services. David Marcus, the head of the Libra Association, was grilled for hours on the autonomy of the Libra network and specifically about Facebook's role in it. As it happened the day before, at the hearing with the Banking, Housing and Urban Affairs Committee, Facebook's reputation is setting a bad precedent for the Libra network. Both the Committees have expressed complete disregard for the Social Media Giant and hence, express dislike for its cryptocurrency endeavor as well. Moreover, the Financial Committee also established that Libra is not a cryptocurrency. Libra US Senate Hearing: Panel II The meeting today also included a second panel of speakers. It included experts from different fields like law, economics, marketing, etc. who chose to speak on the topic. The panelist included cryptocurrency enthusiast. However, even they expressed concerns around Libra. You can download their testimony here. At the hearing, in contrast to the one with David Marcus, the panelist and the Senators agreed. Not only, they together do not trust Facebook, but also acknowledge that 'Libra is not a cryptocurrency.' Libra: Mutual Fund or ETF? The testimony that the panel presented pleased the Senate as it spoke of similar concerns around Facebook's cryptocurrency plans. While it is usually difficult to classify these new-age tokens, the board was quick to conclude this. As Mr. Gensler noted, "It is either a mutual fund or an ETF." Ms. Demirors went on to say that, Libra is a private for-profit that benefits large corporations and profit for entities that already have a tremendous amount of power. On Bitcoin  Ms. Demirors also noted, "The SEC has long deliberated over security laws… and recently established Bitcoin is not a security. The CFTC treats Bitcoin and some of the products around Bitcoin as a digital commodity. However, the IRS treats them as property." Switzerland – Jurisdictional Hub for Cryptocurrencies – But, Why? The choice of moving the Libra Association to Switzerland was regulatory and according to the panel, served as an advantage for conducting illicit activities. Mr. Gensler note, Under Swiss Law, it's probably less likely that it's security than under US law Ms. Demirors noted, "Facecook has set up an Association that is supposed to be non-profit and use to it to plow back its profit to its members." Mr. Brummer also replied to Senator Sherman on similar lines. He raised concerns around the weakness of the Swiss Financial laws. He said, "US would not comply… And the biggest challenge lies with those jurisdictions… that are falling outside of international agreements that the once that FATF has recently agreed to in June. Certainly, Swiss rules particularly relating to both privacy and financial not just different but have certainly historically been considerably weaker." Moreover, the panel even unanimously seems to agree that eventually, when the thing becomes big, they would not comply with the US sanctions laws as well.   Shitcoins, Token taxonomy and Security Laws Senator Davidson brought into the attention of the community the necessity of further trimming the Security Laws. The current Howey test does not entirely define the conditions for the new age digital assets. Nevertheless, the SEC has progressed a coming up with new laws that cater specifically to cryptocurrencies. Moreover, as Mr. Grenseler mentioned that a 'good lawyer could easily exploit a simple black and white test.' Hence, they need to be cautious while defining those laws. Furthermore, he also called upon the Senate and the lawmakers to move to escalate the token taxonomy laws.     Trust but Verify, Ronald Regan Style Mr. Gensler noted earlier in the hearing that all business is based on 'trust', and the fact that we cannot trust Facebook is coming in the way of Libra. He also remarked about the Anti-Competition effects that Facebook and the members of the Libra organization can promote using this proposed network. He said, No other company can do what Facebook can do. Mr. Weissman then went on to elaborate on how the members will help unfair competition in the global markets that are mostly moving to the internet for conducting businesses. He said, "If Facebook becomes both the Social media oligopolist or monopolist that it is and a major Financial Service Provider… All of a sudden they can combine financial information with their social media platform. They can advertise to based on what you're buying. They can go into business and provide goods and services and give you discount in Libra… Unjust competition and Squeezing out any rival who is not part of the system." McHenry closed the hearing for the Congress. He reciprocated the doubts around Libra Despite Facebook "Due to the nature of the technology of Bitcoin, Governments cannot kill it, nor should they and you can't kill digital currencies broadly. They will be enduring, they will be strong. That is the new framework of the next generation of the internet." He added, "And in a generation, I hope that there are some statements here today that will still be pointed to as factual incorrect about what we will live through in this iteration of financial technology." Chairwoman broke another rule and gave the panelist a round of applause. In her closing speech, she noted that in all likelihood, a private organization or a group of private organizations would not be granted this tremendous amount of power to control the monetary policy. She noted that she would not let 'billion-dollar boys' take over the Financial Services industry. Finally, she adjourned the meeting after the following statement "And we should get Mr. Zuckerberg himself. I'm with that" How do you perceive the future of cryptocurrencies from here? Please share your views with us.    The post Historic Senate Hearing Discuss Bitcoin and Libra with Experts – Here are the Closing Views appeared first on Coingape.