Bitcoin prices dropped below $9,200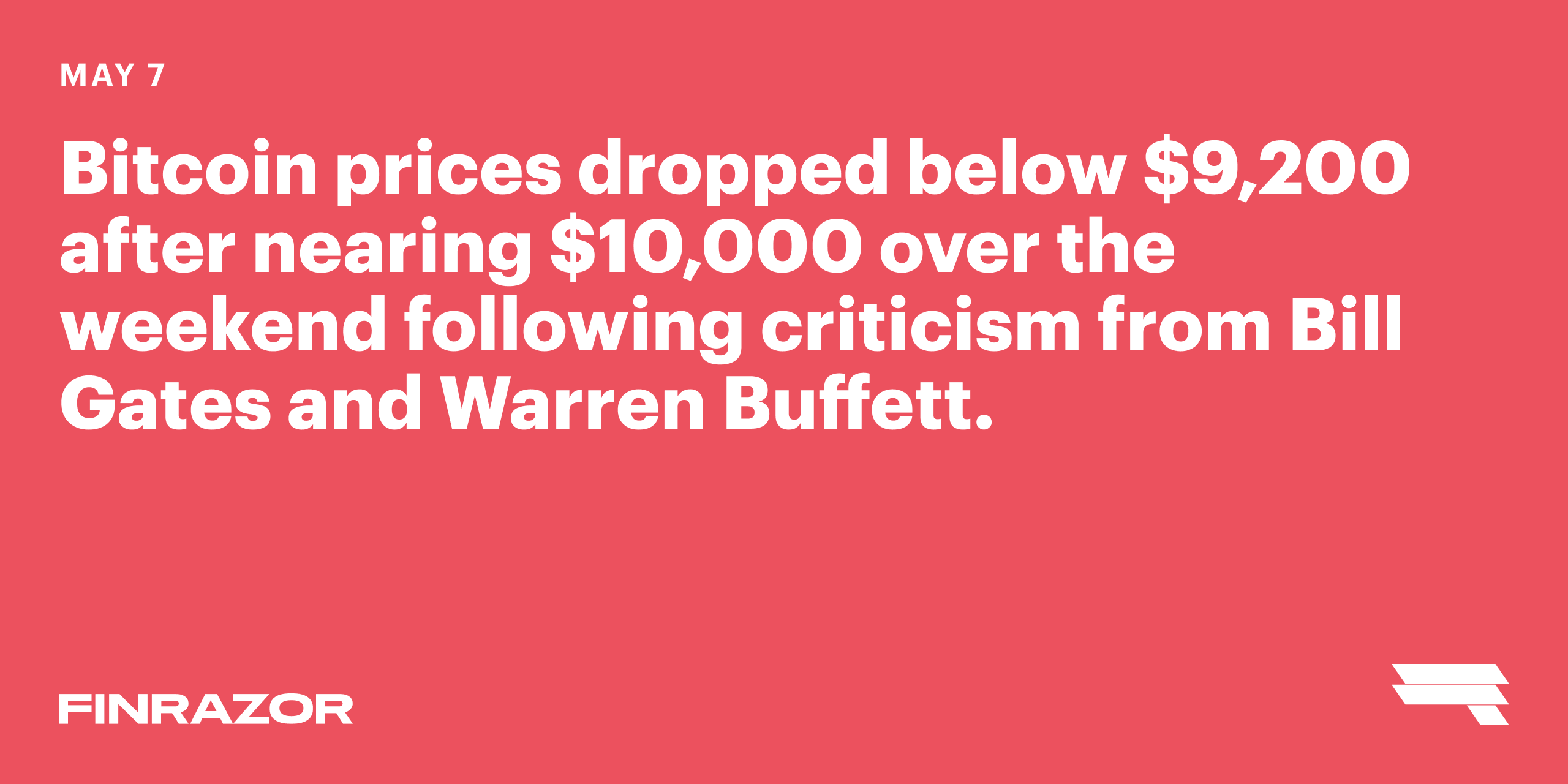 Criticism from Bill Gates and Warren Buffet
Related news
Bitcoin (BTC) Is Oversold  The most-anticipated crypto-centric event of early-2018, the Binance Blockchain Week in Bitcoin capital Singapore, has arrived, and this nascent community is buzzing. As the event is a Binance-led initiative, the upstart's C-suiters and foremost executives have made appearances at the conference, coupled with the subsequent hackathon. While talks from Wei Zhou, Binance's chief financial officer, and his peers were appreciated, Changpeng "CZ" Zhao himself sat down on the conference stage to give a keynote. And as normal, Zhao, one of the crypto sector's golden children, did his best to prove why this industry is still popping, so to speak. According to an exclusive from Micky, an up-and-coming crypto media outlet, Zhao, formerly an executive at OkEX and Blockchain.com, reminisced about 2017's monumental rally, coupled with the subsequent collapse. Echoing sentiment touted by his fellow industry executives, the Binance chief executive noted that late-2017 saw the Bitcoin (BTC) market "overshoot" itself, with asset valuations quickly becoming well-overextended. He quipped that much of the bull sentiment could be chalked up to the abundance of hype, touching on the FOMO that consumers experienced, along with the mass of questionable projects. Murad Mahmudov, a Princeton graduate with ambitions to launch a crypto-focused hedge fund, recently touched on this subject matter. Speaking with Tone Vays, a former institutional investor turned Bitcoin diehard, Mahmudov took Zhao's comments one step further, noting that a majority of altcoins, including Ethereum, EOS, XRP, were overvalued in 2017's parabolic surge. Mahmudov's remarks aside, Zhao purportedly went on to say that cryptocurrencies are currently dramatically oversold, and could be in for an eventual recovery. Speaking in a keynote, the industry insider explained that the current bear market has been "overshot," indicating that he believes assets have fallen too far from their peaks. Backing his claim, CZ, a former Bloomberg employee, noted that there's more talent in this industry than ever before, adding that the growing number of bonafide conferences and blockchain events is comforting. Likely referring the array of truly innovative blockchain projects coming to life, along with forays from Wall Street and household names, Zhao then added that "the builders are building, [so] we are seeing a lot more development in this space." And with all that in mind, Zhao came to the conclusion: So I actually think that we're probably overshooting on the lower side, but again I could be wrong, this is mass technology. However, many aren't in agreement with Zhao's statement on the broader market. Per previous reports from Ethereum World News, Mahmudov recently stated that if history rhymes, BTC could fall to as low as $1,700 before another jaw-dropping run. "I Can Go Weeks Without Looking At Crypto Prices" While the Binance head had remarks about the value of cryptocurrencies, he went on to stress that his sole focus isn't on markets, but rather, this industry's underlying fabric. He claimed that he's "very comfortable" with not checking Coin Market Cap or similar sites, even adding that he has and may continue to "go on for weeks without looking at the [Bitcoin] price." Zhao attributed his disconnected attitude towards wherewithals to Binance's "focus on building," and visions that this sector will swell over time. Title Image Courtesy of Marco Verch Via Flickr The post Binance Chief CZ: Bitcoin (BTC) Is Oversold, Crypto Still Growing appeared first on Ethereum World News.
Bitcoin has formed lower highs and slightly lower lows to create a falling wedge formation on its 4-hour time frame. Support is holding for now but it looks like bears are trying to go for a break lower. The 100 SMA is below the longer-term 200 SMA to confirm that the path of least resistance is to the downside. In other words, the selloff is more likely to resume than to reverse. Also, the gap between the moving averages is widening to reflect stronger selling pressure. Price is below both moving averages to signal the presence of selling pressure also. RSI already dipped to the oversold region to signal exhaustion among sellers and appears to be pulling back up to indicate that buyers might return. In that case, bitcoin could still bounce off support and test the top of the wedge at the $3,800 area again. This lines up with the 200 SMA dynamic inflection point to add to its strength as a ceiling. Stochastic has just reached the oversold region to reflect slower selling pressure and might also be due to turn higher soon. A shallow bullish divergence can be seen as price made lower lows while the oscillator had slightly higher lows since mid-January. Still, a break below support could spur a slide that's the same size as the wedge formation. This spans $3,600 to around $4,400 so the resulting downtrend could last by at least $800. Similarly a break above the wedge top could spur a rally of the same height. Bitcoin has had a rough couple of weeks as traders appeared to turn their optimism down a notch. As it is, the industry has yet to report positive developments that could sustain the rallies from the start of the year, but the lack of bullish interest despite upside breakouts suggests caution. The post Bitcoin (BTC) Price Analysis: Will This Wedge Support Hold? appeared first on Ethereum World News.
Crypto Garage, a subsidiary of Digital Garage and a fintech company in blockchain financial services sector, received an official green signal to conduct the first blockchain and finance project. The regulatory sandbox is managed by the Secretariat of Japan and has given Crypto Garage the signal to participate with cryptocurrency exchanges. The official announcement by Crypto Garage stated: "Under this project, Crypto Garage will provide the participating crypto-exchanges with "SETTLENET", which allows the exchanges to issue a stablecoin pegged to Japanese Yen (JPY-Token) on the "Liquid Network", and trade against Liquid Bitcoin (L-BTC) that are pegged to Bitcoin on a Bitcoin sidechain launched by Blockstream Corporation" Settlenet is a suite of products to enhance application development on the Liquid Network. In addition, this project will make use of atomic swap technology that will allow L-BTC and JPY-tokens to be transferred simultaneously on the Liquid Network. Atomic Swap technology enables peer-to-peer simultaneous exchange of crypto-assets from one part to another, without counter-party risks and going through a third party service without any counterparty risks or intermediaries This is helpful especially for regulatory authorities as the Settlenet will allow the regulatory bodies to monitor any discrepancies or unlawful practices like money laundering. This partnership plans to improve the overall growth of the cryptocurrency ecosystem and markets by providing enough liquidity and relatively stabilize price movements, minimize counterparty risk, increase the visibility of trading for the regulatory authorities. In addition, it aims to solve the security risks that the exchanges inherently possess. The official announcement added: "This initiative is a proof-of-concept project authorized by Regulatory Sandbox in Japan. The project will test and validate i) the secure transfer of crypto assets on a sidechain network and ii) the possibility of building a stable and healthy OTC market by improving transparency for the price-making process." Furthermore, the partnership for the project will have a term of one-year and the participating crypto-exchanges will be limited to those with a Japanese Virtual Currency Exchange License and the transaction amount will be limited. During this timeframe of one-year, Crypto Garage will provide Settlenet for free to all the participating exchanges. The post Bitcoin [BTC]: Liquid-Bitcoin can now be traded with Japanese Yen pegged stable coins privately on Liquid Network appeared first on AMBCrypto.