Cryptocurrency market capitalization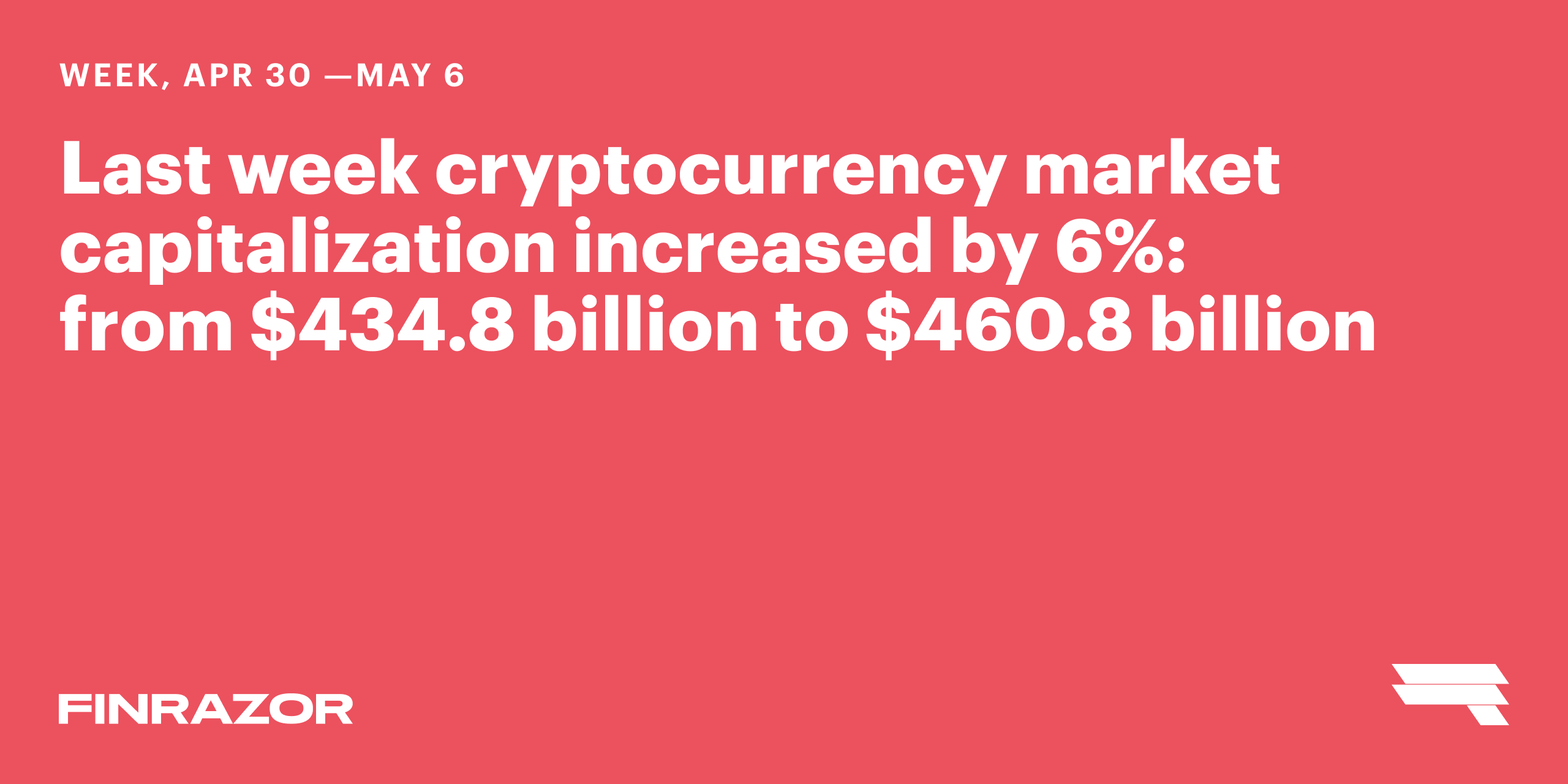 Capitalization increases by 6%
Related news
Coin Market Cap, one of the most popular cryptocurrency analysis sites around, is allegedly reporting fake volumes all over the place.  Why Is Coin Market Cap Not Moving Faster to Fix This? According to a recent report published in Forbes, approximately 75 percent of the data presented on Coin Market Cap is not real. Many cryptocurrencies, especially bitcoin, provide fake trading volumes to analysis websites, but the problem is that Coin Market Cap is still reporting this information as though it were real. The news may allegedly be hitting bitcoin and other forms of crypto hard at press time. The granddaddy of virtual currency has once again fallen below the $10,000 line. It is currently trading for $9,942, which is still relatively high in comparison to its last drop to the $9,000 range, but it's nowhere near where most traders would like to see it. In addition, the drop has occurred in incremental stages. The currency was falling roughly $100 every few hours or so on July 22, and even started the day off at a measly $10,200+, meaning there wasn't much room for the currency to go from the start. Coin Market Cap first acknowledged the fake data being presented on its site roughly four months ago through a series of tweets in March. The company stated:  We're working hard to build constructive solutions to address volume concerns. We look forward to more suggestions as we build our tools for our users. However, one would assume that in all this time, the problem would at least be halfway fixed. Unfortunately, that doesn't seem to be the case. Coin Market Cap is still allegedly reporting incorrect information and offering up "sweet little statements" about how it plans to tackle the issue. Carylyne Chan, the chief strategy officer at the company, explains that the issue of fake volume reporting is very real, and despite the lack of maneuvers thus far, she assures the site's visitors that they are doing all they can to fix the problem. She comments:  The team is trying to do it right… It's always been balancing between doing it right rather than doing it quickly… The team has received just one complaint so far for BKEX and will be further monitoring before an alert will be put up on the site. The real problem here, however, is that many other analysis sites have already fixed their information and reporting structures to ensure correct data is provided, so why is Coin Market Cap taking so long?  It's… Complicated… Chan states: This is really a philosophical question for us because ever since we started the site, we try not to censor information… A primary object is not to weed out and ignore data points but really to enrich the decision-making process of our users by publishing a wider array of data points. The post Is Coin Market Cap STILL Providing False Volume Data? appeared first on Live Bitcoin News.
Long have there been rumours regarding Bitcoin's price and Tether. Are they true though? One can only speculate. Tether's total circulating supply right now is approximately 200 million USDT short of reaching 4 billion. As Tether's market cap hit a new high of $4 billion, Bitcoin stopped its descent and started pumping again. Coincidence? Maybe. […] The post Tether's market cap hits an ATH of $4 billion; Bitcoin pumps correlated? appeared first on AMBCrypto.
Since Bitcoin dropped from highs of $20,000 in Q4 2017, a slight spike in the price has always been welcomed with enthusiasm, even euphoria. Unfortunately, a drop would almost always send traders and investors into a panic. All the same, Bitcoin bulls are convinced that Bitcoin's market capitalization will be hovering around $1.5 trillion towards the end of 2020. With changing regulatory landscape, investment in infrastructure as well as increasing awareness thanks to the attention brought by Facebook's Libra and the community's effort, this overview is understandable. As noted by one bull, Karim Heiden, a business developer in the commodity and forex markets, "a trillion-dollar market…lies in the future implications [of Bitcoin and an ETF]." An EFT Is One Route Towards $1.5 Trillion Karim notes that one way that Bitcoin will have a trillion-dollar market cap is when a Bitcoin ETF has been approved. According to Karim: "The price of BTC will shoot up. To tickle your imagination, consider this: We've all seen the order books. We've all noticed those transactions where someone just filled in an order of 1.500 BTC. That 'whale' is nothing compared to the whales that will enter the market when ETF is approved…If the actual approval comes in 2019, expect the overturn of the market." Additionally, the business developer anticipates that institutions and big investors will start investing in Bitcoin, drawing demand and pumping price in the press. Currently, BTC dominance stands at 65.7 percent. But there are other permabulls aside from Karim. Willy Woo, a partner at Adaptive Capital and an adept market analyst, projects Bitcoin market cap to exceed $1 trillion in the next two years. According to Woo, Bitcoin is approaching a cycle that will help it surpass today's gold market capitalization in the long term. While speaking in a popular podcast, Woo said: "Crypto is money, & money has been around since civilization has been around. Bankers say it's a bubble, technologists call it a disruption, but students of history would call it the dawn of a digital age…If we're in a digital age, we really want a digital currency, and this is our first native digital currency." BTC Halving Is the Other Route Another bull, Chris Burniske, founder, Placeholder, a venture capital firm, anticipates Bitcoin's market cap to blast past $ 1 trillion within Woo's time frame. However, Burniske, unlike Woo, is banking on the much-anticipated Bitcoin halving event that will take place towards mid-2020. For Chris, "If volatility halves, the Bitcoin market cap could reach $1 trillion by 2021. All of crypto could reach $3 trillion by the next bull market." Burniske was speaking during the recent Ethereal Summit. In a tweet, Burniske said: "Looking at the top 10 crypto assets at the end of each year makes me think Bitcoin (blue) gets to $1 trillion on its own in the next bull market." Not Forgetting John McAfee's $1 Million Mark But other bulls have an even higher price for Bitcoin. While a trillion-dollar Bitcoin market would require BTC to trade at around $40K or $50K, John McAfee, for example, sees Bitcoin at $1 million a pop. In a tweet, McAfee said: "People are waking up to the fact that Bitcoin will be $1,000,000. But when? 'Somebody.' 'Maybe 5 years.' 'Within a decade.' I'm the only one giving you a hard date: Dec 31st, 2020." The post Will Bitcoin (BTC) Market Cap Surge To $1.5 Trillion By Q4 2020? appeared first on Ethereum World News.