How much energy does Bitcoin mining really use?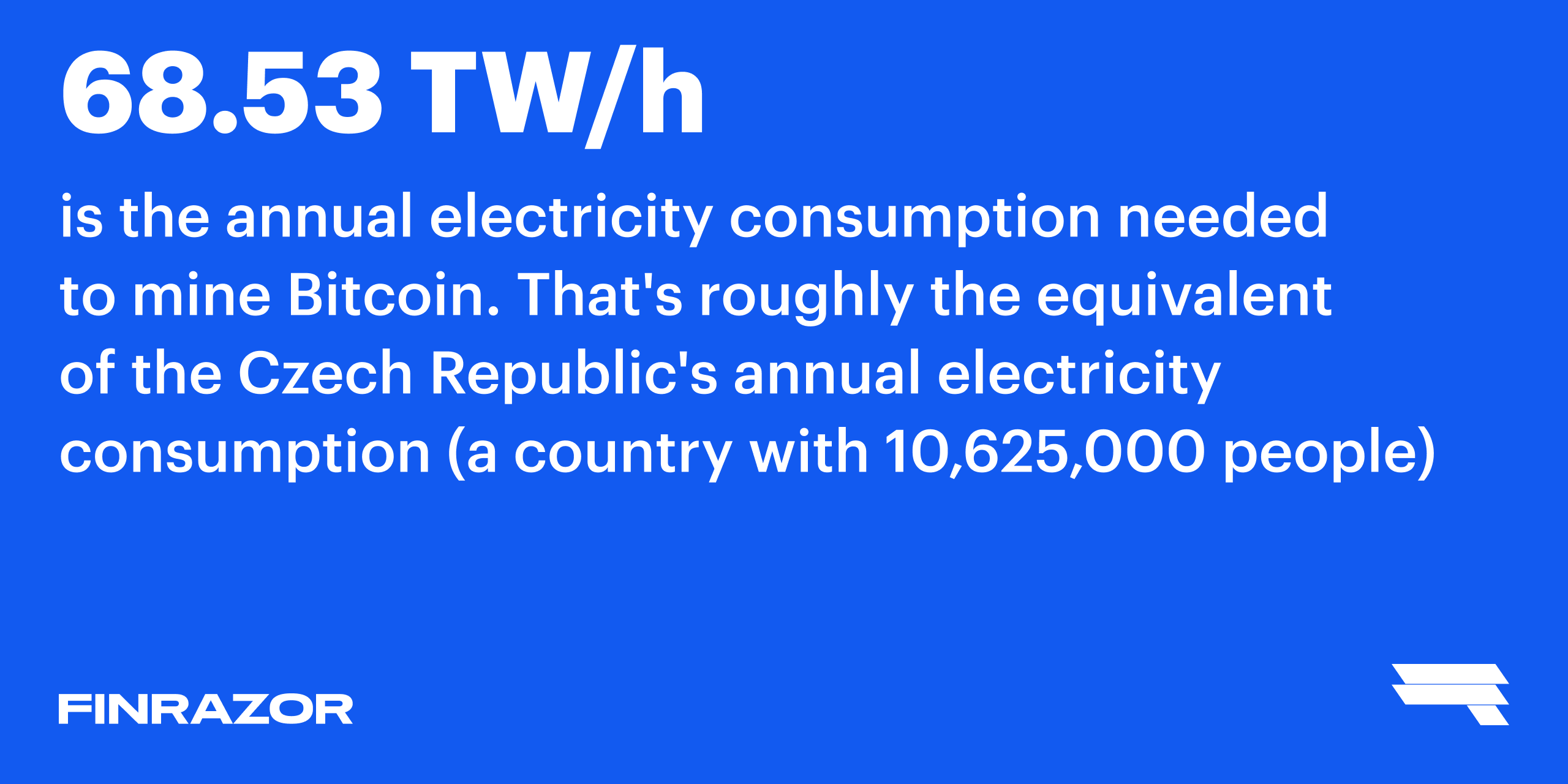 In contrast, these figures were twice lower in 2017 — 34.96 TW/h.
Related news
Bitcoin has been struggling to regain the bullish momentum its enjoyed for the bulk of 2019. Ever since December 2018 when Bitcoin price bottomed, it has mostly been on an upward ascent until it met former bear market resistance at $13,800 and it resulted in a nasty rejection and flash crash that put the entire parabolic rally on ice. Today, Bitcoin price dipped below $10,000 after bull lost daily and weekly support at around $10,185 but paused briefly at $9,800 before falling any lower. Will Bitcoin bull reclaim $10,185 and make an attempt higher? Or will $9,800 break and see a restest of lows around $9,200, and possibly even lower in the coming days ahead? Bitcoin Price Struggles to Maintain Support at $10,000, Bulls Losing Strength to Bears Bitcoin bulls have been not only breathing a sigh of relief now that Bitcoin is once again in the five-digit territory – a far cry away from its bear market lows around $3,000, that put real panic in the hearts of crypto traders and investors who feared the worst was ahead. But Bitcoin bounced, and it brought the first-ever crypto-asset well above $10,000 to $13,800 where it was rejected by former bear market resistance and has struggled ever since to make another attempt at breaking above it. Now, Bitcoin is struggling to even maintain $10,000, the important resistance that was supposed to act as a FOMO trigger taking the crypto asset to new highs. It did incite some FOMO, but not enough to get Bitcoin to revisit its previous all-time high of $20,000 it set back in December 2017. Will Bulls or Bears With the Battle for BTC and Its Short Term Trend Future Most are in the long-term extremely bullish on Bitcoin. Many expect the crypto asset to eventually reach prices of $100,000 to as much as a million per BTC. But irrational exuberance also permeates throughout the crypto industry, and crypto enthusiasts often let their imagination and speculation get the best of them. Clearly, Bitcoin is at an impasse in terms of trading, and whichever direction is finally chosen could set the trend for the short- and medium-term. $BTC looks to be creating lower-highs and lower-lows on the daily chart Marked are the open and support areas based on the weekly chart with previous support possibly flipping to resistance If confirmed, watching the next weekly support at $8975 as a potential target pic.twitter.com/yG2WO2yrzX — Josh Rager (@Josh_Rager) July 23, 2019 If Bitcoin were to break below $10,000 with strength, taking out $9900 and $9800, a retest of where it bounced in recent days at $9,200 would be retested, as well as potential weekly support at just under $9,000. If Bitcoin can reclaim weekly support turned resistance at $10,200, it could make a run toward $10,500 or higher, where the weekly candle opened on Sunday night. A break above that could have Bitcoin trying for $11,000 or retrying to incite a bull run above where the major rejection happened. Related Reading | Regulatory Pressure Amidst Libra Crypto Controversy Hasn't Shaken BTC Bulls  These are critical times for crypto, and while that's commonly said in the past, the latest regulatory pressure has changed the market dynamics and could create an environment for real fear and panic in the coming days, which would surely have a strong effect on Bitcoin price. Featured image from Shutterstock Bitcoin Price at $10,000 is in Danger As Bulls Begin to Lose Support was last modified: July 23rd, 2019 by Tony SpilotroThe post Bitcoin Price at $10,000 is in Danger As Bulls Begin to Lose Support appeared first on NewsBTC.
Popular crypto-analyst Willy Woo wonders if institutional investment will negatively impact Bitcoin price action.  Willy Woo Wonders… On Tuesday, Adaptive Capital partner and crypto-analyst, Willy Woo, tweeted out a thought that has long been on the minds of many Bitcoin investors. In the semi-stream of consciousness that followed, Woo suggested that the primary reason for the commodity's sh*tcoin like trading behavior is due to it existing in "a controlled market with a few hands holding a concentrated supply." While Bitcoin has proven to have an unshakeable network and zombie-like price action that always comes back to please, there is one major vulnerability that could negatively impact Bitcoin price action. According to Woo, this risk to the "Bitcoin dream" is the possibility of coins becoming concentrated into a few hands which will function as "the new bankers"  This is a common theory bandied about throughout crypto-circles and there are a number of people who worry that institutional investment will lead centralization and a dampening of BTC's price volatility. Many investors are actually drawn to Bitcoin's volatility and believe that this is part of the 'magic' of investing in the digital currency. If it's price action began to mirror Gold its possible that some investors would lose interest and many would simply hodl Bitcoin as a store of value. Is Bitcoin a Store of Value or a Medium of Exchange? Earlier this year, Diar Research published a report showing that all throughout 2018 institutions were steadily accumulating Bitcoin; especially during November 2018 when the digital asset crashed to a yearly low. Given that Bitcoin's coin supply is limited to 21 million and that many retail investors hold on to their coins, large-scale accumulation by institutions could present challenges.  Woo ponders "what kind of monetary policy would be sensible to encourage distribution [and concludes] that the 49 year  Jubilee Cycle of debt forgiveness in Babylonian times looks pretty smart." While cryptic, Woo's mention of the Jubilee Cycle refers to the conclusion of seven cycles of Sabbatical years and its significant impact on the management and ownership of land in Biblical times. During the Jubilee, slaves and prisoners were supposed to be freed, and all debts were forgiven. Bitcoinist intends to contact Woo for further elaboration on the relevance of this reference.  The Twitter community appeared deeply interested in Woo's musings and a number of followers engaged with thought-provoking responses. Popular crypto-analyst Dave the Wave suggested that market cycles encourage increased distribution, whereas @less_is_a_lot suggested that solution is a "deflationary currency that can actually work as a medium of exchange." According to @less_is_a_lot, Bitcoin is nothing more than a complex speculative asset the wealthy use to "suck wealth" away from the dumb and greedy. Some respondents also suggested that it will take a clear fiscal policy where large Bitcoin holders are taxed at a variable rate dependent upon the size of their holdings. @davidegallo suggests that such a tax would "encourage the emission of BTC in the real economy and therefore circulation and distribution."  Ultimately, Woo presents a fantastic question which will continue to gain relevance as institutional investors deepen their involvement with the crypto-sector.  Do you think institutional investment will dampen Bitcoin's price action? Share your thoughts in the comments below!  Image via Shutterstock, Twitter@Less_is_a_lot, @Woonomic, @Davethewave The post Willy Woo Discusses the Greatest Threat to 'Bitcoin's Dream' appeared first on Bitcoinist.com.
On the downside, if the bearish pressure continues, the price may likely fall to the low of $9,000 or $9,400 price level. The crypto's price is below the EMAs as the price fell to a low of $9900. BTC/USD Medium-term Trend: Ranging Resistance Levels: $10,000, $10, 200 ¸ $10,400 Support levels: $9,000, $8,800, $8, 600 […]