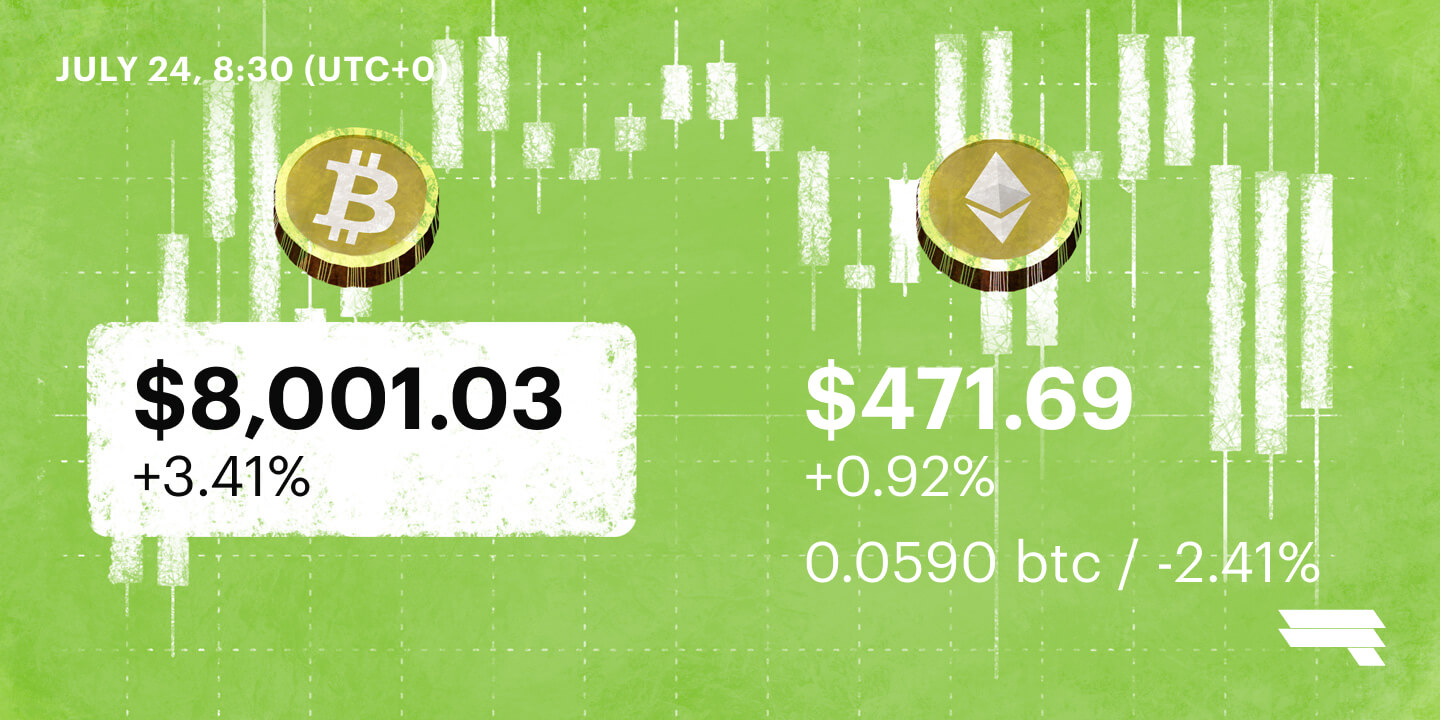 There is nothing more pleasant than a steadily growing market. Bitcoin overcame the $8,000 mark
Related news
In this video, Mattie gives you the latest bitcoin and crypto news. He talks about the ethereum chain splitting, BitGo CEO Says Institutional Money in Crypto Can 'Easily' Reach Trillions of Dollars, and a new Stellar Lumens fund. This is a daily segment! ----------------------------------------------------------------------------------- CHECK OUT OUR PODCAST: https://bit.ly/2sZCAiF New episode every Monday and Friday! ----------------------------------------------------------------------------------- Check out Altcoin Buzz Ladies! https://www.youtube.com/channel/UCxulvI2C9wUvvDDNS7S35fA/videos ---------------------------------------------------------------------------------- Connect with us on Social Media: Twitter: https://bit.ly/2GDAoCp Facebook: https://bit.ly/2wYksLB Telegram: https://bit.ly/2IAqDuI ---------------------------------------------------------------------------------- Looking for the best cryptocurrency wallets? Check these out: BitLox: https://bit.ly/2rWQnHa CoolWallet S: https://bit.ly/2Liy5bv Trezor: https://bit.ly/2IXrZic Ledger Nano S: https://bit.ly/2IyE3al KeepKey: https://bit.ly/2x5TlhM Read about them here: https://bit.ly/2rTdthZ --------------------------------------------------------------------------------- References: Leading Crypto Asset Manager Grayscale Launches Stellar Lumens Trust https://www.altcoinbuzz.io/crypto-news/finance-and-funding/leading-crypto-asset-manager-grayscale-launches-stellar-lumens-trust/?fbclid=IwAR2AlAU_C_8Mm9CUm2hDci0pmdW3pvLzphS-BSy888SzDptaXMeifxZgJ1I Crypto Investment Firm Grayscale Launches Fund Dedicated to Stellar Lumens (XLM) https://www.cryptoglobe.com/latest/2019/01/crypto-investment-firm-grayscale-launches-fund-dedicated-to-stellar-lumens-xlm/ Grayscale Tweet https://twitter.com/GrayscaleInvest/status/1085904356635959297?ref_src=twsrc%5Etfw%7Ctwcamp%5Etweetembed%7Ctwterm%5E1085904356635959297&ref_url=https%3A%2F%2Fwww.altcoinbuzz.io%2Fcrypto-news%2Ffinance-and-funding%2Fleading-crypto-asset-manager-grayscale-launches-stellar-lumens-trust%2F Grayscale https://grayscale.co/stellar-lumens-trust/ BitGo CEO Says Institutional Money in Crypto Can 'Easily' Reach Trillions of Dollars As Company Launches Cold Storage Trading https://dailyhodl.com/2019/01/17/bitgo-ceo-says-institutional-money-in-crypto-can-easily-reach-trillions-of-dollars-as-company-launches-cold-storage-trading/ Crypto's Billion-Dollar Theft Problem Prompts Safer Way to Trade https://www.bloomberg.com/news/articles/2019-01-16/crypto-s-billion-dollar-theft-problem-prompts-safer-way-to-trade Ethereum Chain Splits, An Estimated 10% of Miners Stay on Constantinople https://www.trustnodes.com/2019/01/17/ethereum-chain-splits-an-estimated-10-of-miners-stay-on-constantinople Ethereum Upgrade – Constantinople Hard Fork Delayed https://www.altcoinbuzz.io/crypto-news/product-release/ethereum-upgrade-constantinople-hard-fork-delayed/ VanEck to Nasdaq: Bitcoin Market Structure Expected to Improve in 2019 https://www.newsbtc.com/2019/01/17/vaneck-to-nasdaq-bitcoin-market-structure-expected-to-improve-in-2019/ Nasdaq Tweet https://twitter.com/Nasdaq/status/1085522054559031296?ref_src=twsrc%5Etfw%7Ctwcamp%5Etweetembed%7Ctwterm%5E1085522054559031296&ref_url=https%3A%2F%2Fwww.newsbtc.com%2F2019%2F01%2F17%2Fvaneck-to-nasdaq-bitcoin-market-structure-expected-to-improve-in-2019%2F -------------------------------------------------------------------------------- DISCLAIMER The information discussed on the Altcoin Buzz YouTube, Altcoin Buzz Ladies YouTube, Altcoin Buzz Podcast or other social media channels including but not limited to Twitter, Telegram chats, Instagram, facebook, website etc is not financial advice. This information is for educational, informational and entertainment purposes only. Any information and advice or investment strategies are thoughts and opinions only, relevant to accepted levels of risk tolerance of the writer, reviewer or narrator and their risk tolerance maybe different than yours. We are not responsible for your losses. Bitcoin and other cryptocurrencies are high-risk investments so please do your due diligence and consult the financial advisor before acting on any information provided. Copyright Altcoin Buzz Pte Ltd. All rights reserved.
Following a period of sustained bearish sentiment in the Bitcoin mining market accompanied by three notable hashrate reductions in the final third of 2018, the flagship cryptocurrency's network appears to be back on its way to optimum health. Bitcoin Reverses Hashrate Decline In December, CCN reported that the flagship Bitcoin blockchain's hashrate dropped by 7 The post What Death Spiral? Bitcoin's Hashrate is Still Climbing appeared first on CCN
The same bulk coin-counting machines that turn spare change into bills at the grocery store can now turn bills into bitcoin. Coinme, a Seattle-based Bitcoin ATM company, has partnered with Coinstar to enable Bitcoin purchases at grocery stores in California, Texas, and Washington. Example of a kiosk. Image courtesy of Coinstar Coinstar machines are large coin-cashing kiosks located at grocery stores, drug stores, and other retail locations in the UK, US, Canada, and Ireland. Shoppers frequently use the machines to convert loose change into bills or gift cards. Today, Coinstar operates over 20,000 of these machines across the world. On Jan. 17th, Coinme, the first state-licensed Bitcoin ATM company in the U.S., announced a partnership with Coinstar to offer bitcoin on the coin-counting kiosks. Users are now able to purchase up to $2,500 worth of bitcoin at these machines at select Safeway and Albertson stores in California, Texas, and Washington. Those who purchase bitcoin at one of these kiosks would receive a voucher that is redeemable for bitcoin on the Coinme website. The company advertises the plan as the "easiest and most convenient way to buy cryptocurrency with cash," but opinions may differ. Steeps Fees and Glaring Exceptions Unfortunately, these Bitcoin ATMs are notorious for their high fees. Each Coinme transaction comes with a 4 percent service fee, not including the trading spread (the difference between the buy and sell price of bitcoin on an exchange), which could make the real cost of buying even higher. For comparison, Coinbase charges a fee of 1.49 percent. When dealing with several thousand dollar purchases, these fees add up. Meanwhile, Coinstar has even steeper fees. Customers that want to count their coins are charged a hefty 11.9 percent fee, for a service that many banks provide for free. The most perplexing part of the announcement is that "coins cannot be used for Bitcoin transactions," a major selling point for customers who would rather turn their spare coins into BTC. Plans for Expansion If successful, the company plans to expand to other retailers and locations in the United States. Thousands of these machines could be enabled to facilitate bitcoin transactions. Neil Bergquist, Coinme's co-founder had this to say about the move: "We're excited to team up with Coinstar to give consumers a convenient and easy way to buy Bitcoin during the course of their daily routines. Bitcoin is no accessible at your local grocery store via Coinstar kiosks, and this offering will make it even easier for consumers to participate in this dynamic new economy." Meanwhile, according to Coinstar's CEO Jim Gaherity: "Coinstar is always looking for new ways to offer value to our consumers when they visit our kiosks, and Coinme's innovative delivery mechanism along with Coinstar's flexible platform makes it possible for consumers to easily purchase Bitcoin with cash." Maybe with the novelty and hype around bitcoin, people will overlook the fact that they can buy bitcoin much more cheaply elsewhere. But, for people looking to sample the nascent cryptocurrency, this is a great way to get started. The post Coinstar Kiosks Across the United States Will Now Sell Bitcoin, at a Hefty Fee appeared first on CryptoSlate.