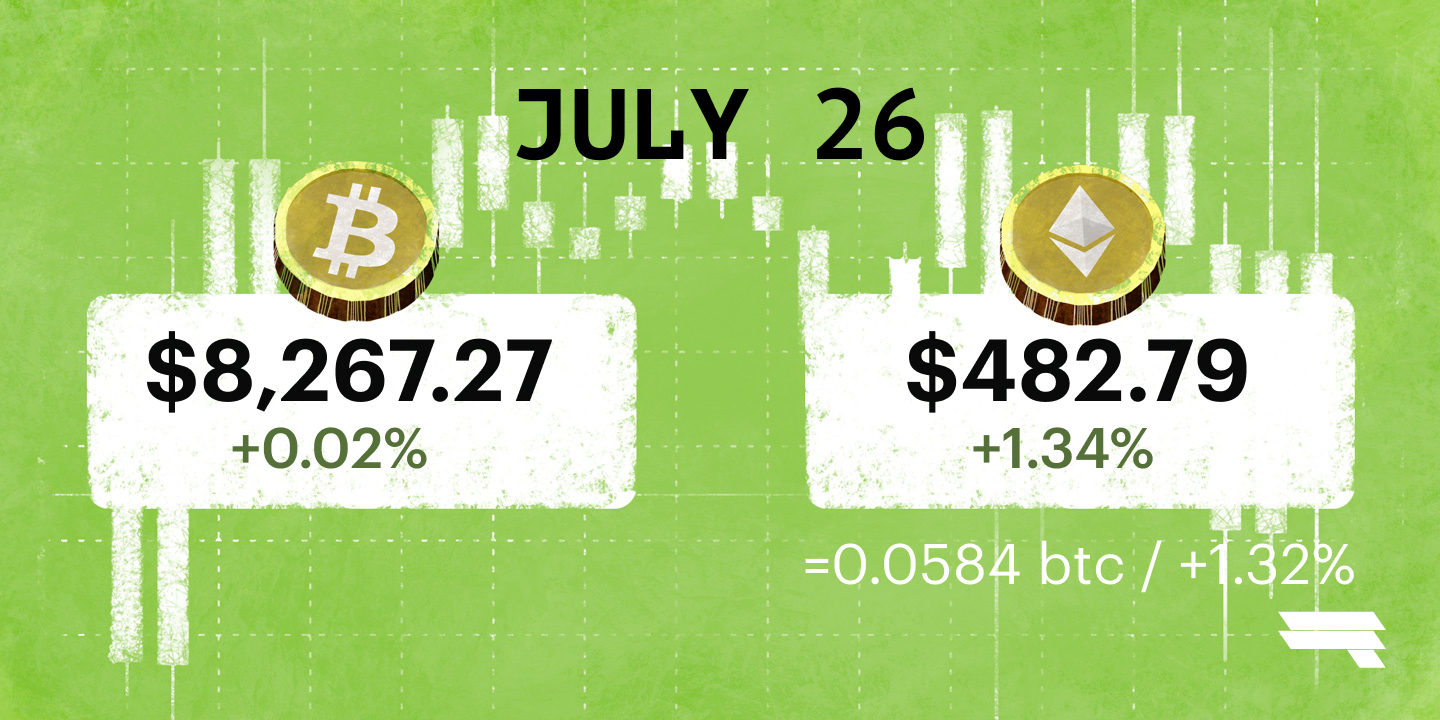 Bitcoin is growing steadily, albeit a little bit. In general, the trend of the green market strengthens its position
Related news
This week, the inter-ministerial committee (IMC) of India officially recommended the imposition of what has been considered a blanket ban on crypto assets like bitcoin. According to Reuters, the panel led by finance secretary Subhash Chandra Garg has suggested a fine of $3.63 million and imprisonment for both individuals and businesses that engage in any crypto-related activity including mining, investing, transfers, and issuance. Is there any hope to bitcoin ban turnaround? The official report submitted by the IMC to the finance industry obtained by Inc42 explicitly stated that crypto-assets lack underlying intrinsic value, an argument critics have consistently brought upon to describe the speculative nature of the asset class since the inception of bitcoin in 2009. The document read: "There is no underlying intrinsic value of these private cryptocurrencies. These private cryptocurrencies lack all the attributes of a currency. There is no fixed nominal value of these private cryptocurrencies i.e. neither act as any store of value nor they are a medium of exchange. Since their inceptions, cryptocurrencies have demonstrated extreme fluctuations in their prices. Therefore, the Committee is of clear view that the private cryptocurrencies should not be allowed." If the report is accepted by the finance ministry and the ban goes through, executives fear it would effectively put an end to the potent crypto market in India, restricting the ability of companies in dealing with crypto assets. Already, most leading crypto exchanges in India have closed operations in India and moved to other markets. Since April 2019, local reports indicated that due to regulatory uncertainty, funding for exchanges in India has started to dry up. Sathvik Vishwanath, CEO of Unocoin, told ET at the time: "We did ask people to leave last week, but our operations will continue for the foreseeable future. We have some amount of reserves to push through for the next couple of months and will wait for the Supreme Court's verdict." However, Nischal Shetty, the CEO of WazirX, a bitcoin exchange based in India, said that the ban on crypto has not been finalized yet and that there still is hope that the government could turn around the suggestion of the IMC. He added: "Crypto is not banned in India," said Nischal Shetty. "Crypto Ban is a suggestion by the IMC report Section 1.1 of the report suggests the government should form a standing committee to revisit this Everyone loves talking the negatives but let's understand this is not over yet." Negative sentiment Upon the re-election of Prime Minister Narendra Modi in 2019, many analysts speculated that the government of India could take a tougher stance on the crypto market as the Modi administration has done throughout the past two years. Related: India Stalls Cryptocurrency Regulations, Uncertainty Continues Whether it is a blanket ban or strict restrictions, continued uncertainty in the crypto industry of India is likely to lead to a decline in confidence for investors and an impractical ecosystem for local startups. While industry executives have expressed hope in recent months, Sathvik Vishwanath, the co-founder of Unocoin, one of the biggest bitcoin exchanges in India, said that shall the ban go through as proposed by the IMC, it would result in the crypto sector of India significantly falling behind other leading markets. he said: "If the government decides to take such a drastic step then India will stand to lose out significantly on the technology front." The post Crypto exchange exec says Bitcoin ban in India not final yet, is there any hope? appeared first on CryptoSlate.
Take a step back and acquire interest on your crypto wallet; whether you are holding Bitcoin or other cryptocurrencies, the Amon Earn product allows you to earn interest for simply depositing cryptos. Instead of storing assets in an exchange such as Binance or Coinbase you simply deposit them in the Amon Wallet – doing so you will earn a percentage of interest every week. What is Amon Earn About?  With more than 95% of crypto users using digital currencies as part of their investment portfolio, a smaller number spend cryptocurrencies day to day – the future remains bright for crypto finance. So what has Amon done to help crypto investors and users? As easy as it sounds, they created an innovative Earn Product – by placing your cryptocurrencies in the Amon Wallet you can earn interest every week. Whether you are adding Bitcoin (BTC), Ethereum (ETH) or LiteCoin (LTC) to your Amon Wallet it is really very simple – every Monday without fail you will receive an additional interest payment for those currencies – you can earn more with Amon. And these are not the only cryptocurrencies, you can earn interest on more than 15 other cryptocurrencies! How Does Amon EARN Work? You might be wondering how Amon is able to provide interest from your deposited funds? It is quite straightforward – Amon has some great partnerships with Hedge Funds, professional trading companies that require large amounts of capital to place their trades. They borrow cryptocurrencies to third parties to pay their capital interests. Amon keeps only 20% of the proceeds and shares 80% with the community. Amon Earn is both easy and straightforward: Deposit your digital currencies in the Amon Wallet You will receive interests on deposited funds every Monday Want to withdraw? No problem – there is no locking period 20+ Coins – Bitcoin (BTC), Ethereum (ETH), Ripple (XRP), BitcoinCash (BCH), LiteCoin (LTC), DASH, and other coins in the pipeline. How do I Calculate my Interest? Wondering how much you can earn? With the Amon Calculator, you can work out the potential interests from your deposited crypto funds. Simply insert the type of cryptocurrency you want to estimate as well as the amount and the calculator will give you an assessment of the weekly, monthly and annual yields that you could receive. Based on market conditions the level of interest may change a bit, on average Amon Team estimates a yearly yield of 3-10% per annum. The rates are updated every week and displayed on the APP. What Else Can You Do with the Amon Wallet? The Amon Wallet is not just an interest-earning wallet, it is much more. You can also use the wallet to:   Buy & Sell over seven cryptocurrencies   Deposit / Withdraw Euro with a unique Virtual IBAN   Exchange crypto-crypto and crypto-Euro   Track the performance of your coins   Pre-Order Card, Amon is shortly launching a debit card with a fully integrated powerful AI System to convert cryptos at the time of purchase. Who is Behind the Amon Wallet and How Secure is it? The Amon Wallet is secured by the SEC-regulated provider BitGo. BitGo is a supplier of custodial services that works with the top blockchain companies around the globe, handling millions of transactions and crypto assets. For additional piece of mind, they are also insured for up to $100 Million against loss and hacks. As a top-level partner known for its reliability, Amon decided to work with BitGo to provide real security for the users – your funds have never been safer in the Amon Wallet. Who is Amon? Starting its journey in 2017, Amon raised $1.5 Million via a successful ICO – in March 2019 Amon was proud to announce that they joined the Innovation Fund of MKB Bank, the fourth largest bank in Hungary. Amon Vision and Awards  Amon's journey started in November 2017 when they began to build a unique Wallet that offered unrivaled services. Over the past year and a half Amon has been able to create different products for the needs of different crypto users: By holding your cryptos you can use the Earn product and make good interests You can buy Bitcoin or cryptos with Euro/swap between different cryptos – Amon is connected with a number of different exchanges and provides only the best rate for your exchange Amon will also be releasing a debit card backed by the Amon AI system to optimize users spending at the point of sale. Amon is proud to announce that they were awarded the Top Disruptive Company in 2019 at the Malta Blockchain Summit in May 2019 along with two other important projects, Bitcoin.com and HoloChain. If you have queries, please do free to drop them a line at hello@amon.tech or join the Amon community on the Amon Telegram Group. Download the Amon App on iOS, Android or use the Web wallet. The post Earn Interest on Bitcoin and Other Cryptos with Amon appeared first on ZyCrypto.
The 2018 bear market has ravaged Bitcoin and altcoins alike. While Bitcoin has made significant recovery from its 2018 low of $3,200, most altcoins are still battling to find their footing. A Twitter poll involving 4 altcoins shows that users are more willing to buy ICX than other three alts including Ethereum. The poll had 1,842 respondents answer the question "if you have to choose ONLY one alt for the long term, with the highest chance to get back the ATH." Out of the number, 49% indicated optimism that ICX is most likely to get back to its all-time high while the remaining 3 had 51% of the votes to share.  Not very surprisingly, ETH had the second-highest vote of 31% who would go for it in the hope of getting back to its all-time high and making some profits from it. The next was NEO with 14% of the votes while Ontology (ONT) came last with 6% of the votes, with the least chance of ever seeing its all-time high price again. The poll also gave room for those whose favorite coins were not listed to mention them in their comments. Guess what? ICX was still mentioned roughly 99% of the time, which raises the question of why ICX? Well, ICX is the native token of one of the largest blockchain projects in the world, ICON. It's working towards bringing blockchain application to the real world in all areas including banking, healthcare, and education. It also provides scalability for both public and private blockchains as well as enabling interoperability between chains. There are several other projects with similar goals but ICX seems to have found a place in the hearts of crypto users worldwide. Its price performance is still subpar as it has lost over 8% in the last 24 hours, ICX supporters, however, believe it's soon going to reach its all-time high once again. Some experts question the possibility of another alt season but with this level of support, who knows what may happen in the future? The post Poll: Majority Of Respondents Would Rather Buy ICON (ICX) Than Ethereum For Long Term Investment appeared first on ZyCrypto.