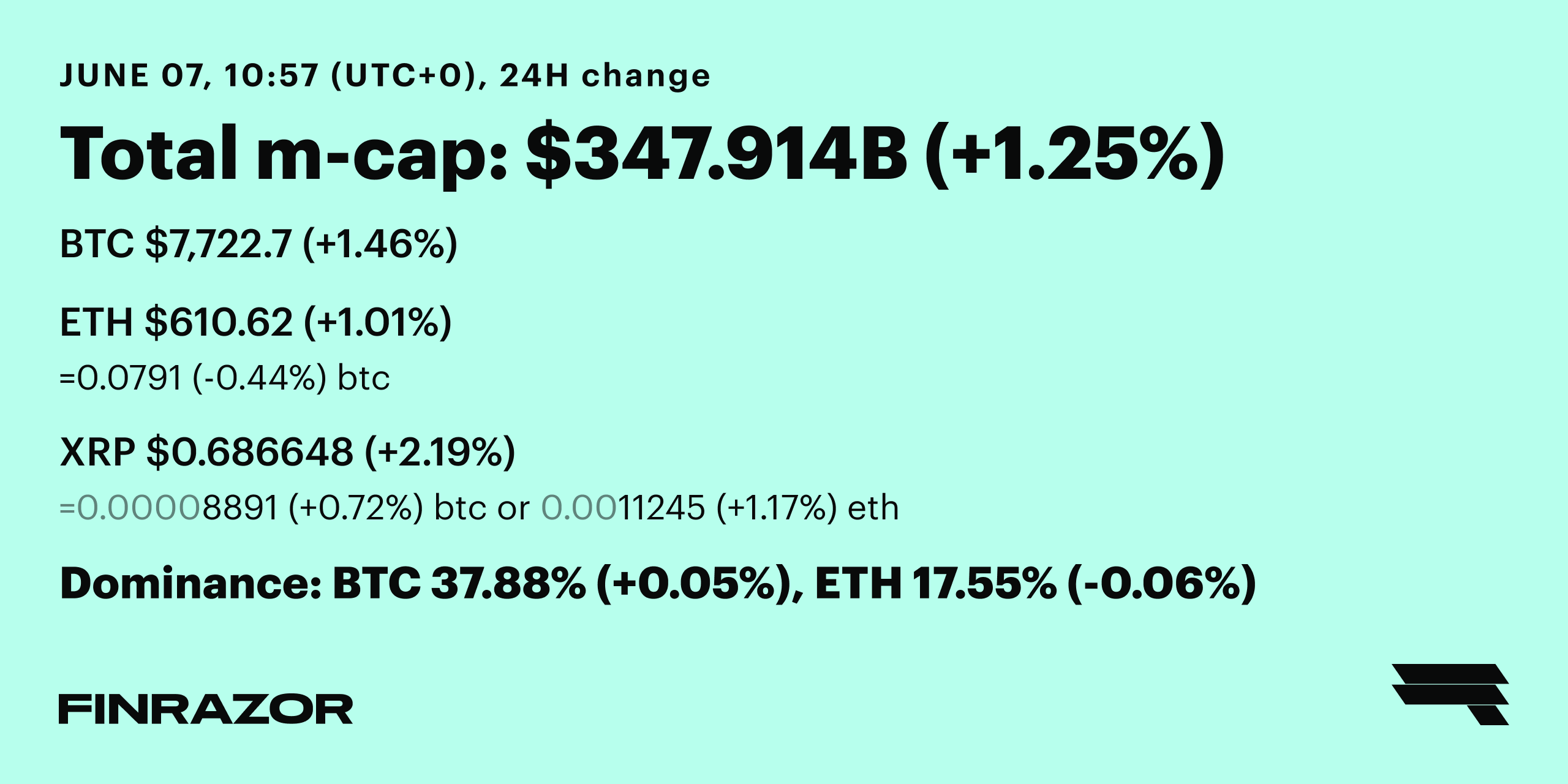 Market is greenish, but the growth is not so significant.
Related news
Following a period of sustained bearish sentiment in the Bitcoin mining market accompanied by three notable hashrate reductions in the final third of 2018, the flagship cryptocurrency's network appears to be back on its way to optimum health. Bitcoin Reverses Hashrate Decline In December, CCN reported that the flagship Bitcoin blockchain's hashrate dropped by 7 The post What Death Spiral? Bitcoin's Hashrate is Still Climbing appeared first on CCN
Mercury FX is trying to change the way people and businesses make international transactions. Their mission is to beat banks by providing customers with lower "exchange rates and lower transaction fees on all international transactions." They aim to replace current systems with blockchain to improve and replace the way businesses interact with each other. "Whether it's receiving or sending currency internationally, we will always provide a better service, with better exchange rates and at a lower cost than the banks," Mercury FX claims. In a series of tweets, @mercury_fx_ltd shared how easily and efficiently one of their clients, Mustard Foods, was able to send funds internationally. "We've made our largest payments across RippleNet using #XRP – 86,633.00 pesos (£3,521.67) from the U.K. to Mexico in seconds. UK-based Mustard Foods saved £79.17 and 31 hours on the transaction. "As a food production company supplying 500+ restaurants in the UK & Europe, we pay suppliers around the world to get quality ingredients for our customers. Faster, cheaper payments allow us to fulfill orders quickly and grow our business.' James Durrant, Commercial Director." Endorsements from thriving businesses is pretty much the best way to spread the use of blockchain technology. It's important for not just the people of the cryptocurrency space to see, but also the skeptics of the financial world to witness the capabilities of cryptocurrency. Transactions like the one made by the UK-based, international company Mustard Foods highlight the ability that blockchain and cryptocurrency have to change the way people do business. As previously stated by Mercury FX, the aim is not just to disrupt, but replace the old guard. And the strategic cooperation with Ripple could make it possible. "We believe that the more established blockchains will eventually replace the SWIFT network alongside other frankly clunky payments networks. Cryptos will be used as a conduit to replace fiat eventually." When companies realize they could save money and simultaneously speed up their processes, it will be a no-brainer for them to integrate blockchain transactions into their businesses models. The post Mercury FX Makes Its Largest Payment Via RippleNet, Illustrates How Ripple's XRP Saves time and Money for Businesses appeared first on ZyCrypto.
The same bulk coin-counting machines that turn spare change into bills at the grocery store can now turn bills into bitcoin. Coinme, a Seattle-based Bitcoin ATM company, has partnered with Coinstar to enable Bitcoin purchases at grocery stores in California, Texas, and Washington. Example of a kiosk. Image courtesy of Coinstar Coinstar machines are large coin-cashing kiosks located at grocery stores, drug stores, and other retail locations in the UK, US, Canada, and Ireland. Shoppers frequently use the machines to convert loose change into bills or gift cards. Today, Coinstar operates over 20,000 of these machines across the world. On Jan. 17th, Coinme, the first state-licensed Bitcoin ATM company in the U.S., announced a partnership with Coinstar to offer bitcoin on the coin-counting kiosks. Users are now able to purchase up to $2,500 worth of bitcoin at these machines at select Safeway and Albertson stores in California, Texas, and Washington. Those who purchase bitcoin at one of these kiosks would receive a voucher that is redeemable for bitcoin on the Coinme website. The company advertises the plan as the "easiest and most convenient way to buy cryptocurrency with cash," but opinions may differ. Steeps Fees and Glaring Exceptions Unfortunately, these Bitcoin ATMs are notorious for their high fees. Each Coinme transaction comes with a 4 percent service fee, not including the trading spread (the difference between the buy and sell price of bitcoin on an exchange), which could make the real cost of buying even higher. For comparison, Coinbase charges a fee of 1.49 percent. When dealing with several thousand dollar purchases, these fees add up. Meanwhile, Coinstar has even steeper fees. Customers that want to count their coins are charged a hefty 11.9 percent fee, for a service that many banks provide for free. The most perplexing part of the announcement is that "coins cannot be used for Bitcoin transactions," a major selling point for customers who would rather turn their spare coins into BTC. Plans for Expansion If successful, the company plans to expand to other retailers and locations in the United States. Thousands of these machines could be enabled to facilitate bitcoin transactions. Neil Bergquist, Coinme's co-founder had this to say about the move: "We're excited to team up with Coinstar to give consumers a convenient and easy way to buy Bitcoin during the course of their daily routines. Bitcoin is no accessible at your local grocery store via Coinstar kiosks, and this offering will make it even easier for consumers to participate in this dynamic new economy." Meanwhile, according to Coinstar's CEO Jim Gaherity: "Coinstar is always looking for new ways to offer value to our consumers when they visit our kiosks, and Coinme's innovative delivery mechanism along with Coinstar's flexible platform makes it possible for consumers to easily purchase Bitcoin with cash." Maybe with the novelty and hype around bitcoin, people will overlook the fact that they can buy bitcoin much more cheaply elsewhere. But, for people looking to sample the nascent cryptocurrency, this is a great way to get started. The post Coinstar Kiosks Across the United States Will Now Sell Bitcoin, at a Hefty Fee appeared first on CryptoSlate.