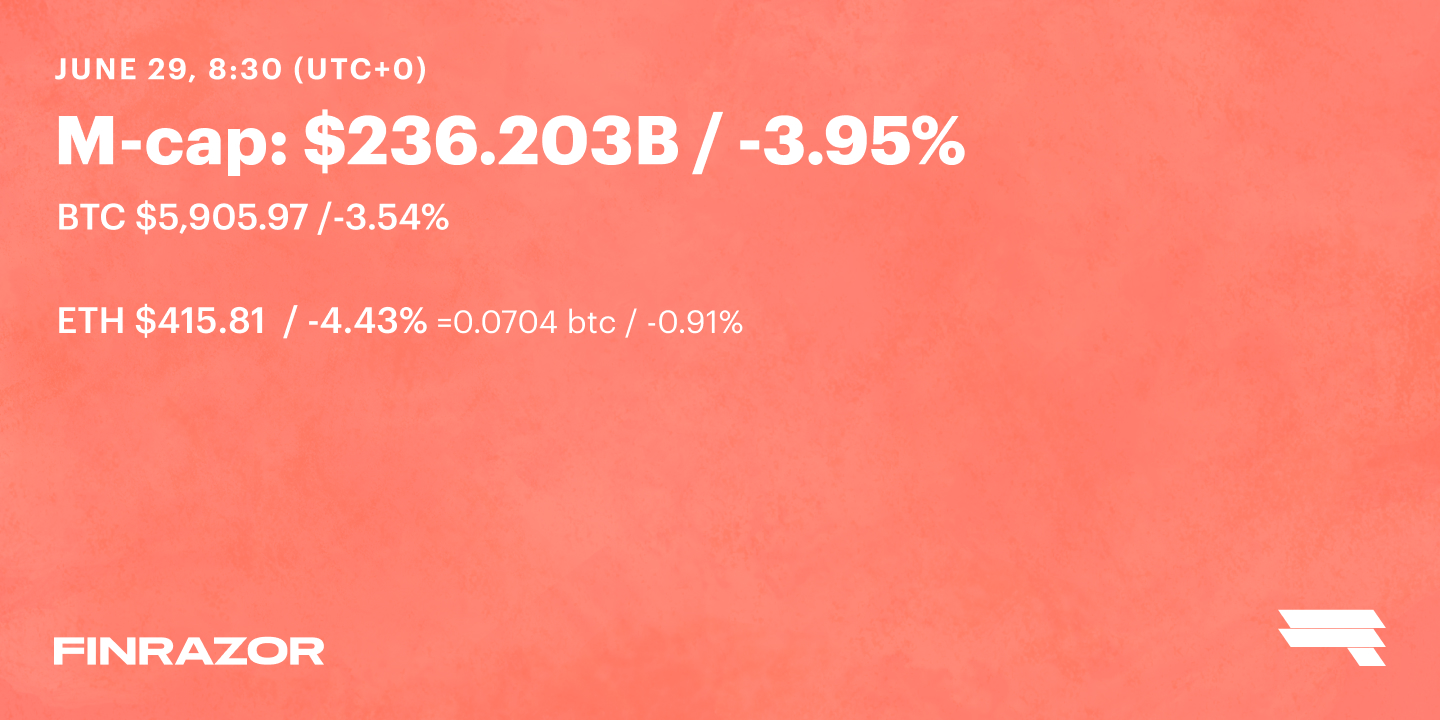 The market turned red again.
Related news
The co-founders of Ethereum and Tron have recently engaged in a battle of wits on Twitter. In a recent interview, Vitalik Buterin, the co-founder of Ethereum had commented on the competition between Ethereum and Tron. He claimed that he would "lose hope in humanity" if Tron usurps Ethereum. Justin Sun came with a witty response on Twitter satirically praising Ethereum while at the same time diplomatically placing it to a veteran status; a thing from the past. Recently, a Chinese Institution also ranked Tron above Ethereum in its list of Public Blockchains. When #TRON succeed, we will build a monument in memory of #ethereum! @VitalikButerin will be remembered for his tremendous contribution in #blockchain industry! #TRX #BTT https://t.co/ig3Yg50NND — Justin Sun (@justinsuntron) March 24, 2019 Ethereum vs Tron: let's Look At the Facts Ethereum, released in 2015 is the pioneering Dapps Platform currently placed second w.r.t total market capitalization. Tron Foundation was initiated in 2017 on the Ethereum platform itself. However, it is far more capable can Ethereum in terms of scalability and has also implemented Proof of Stake (PoS) on its Blockchain. Tron is currently ranked 11th w.r.t total market capitalization. Transactions per day Ethereum transactions per day chart The transactions on Tron are four times that conducted on Ethereum. Therefore, the usability of Tron is far greater than Ethereum. The number of transactions on Ethereum is primarily in the 500k-600k range. No. of transactions per day on Tron While the number of transactions executed on Tron per day is ranging in the 1.5 M to 2.2 M range, the volatility in the 'number of transactions' on Tron is considered significant. The transactions are ranging from 2.9 M to 1.5 M in fourteen days. The number of Dapps that follow TRC-20 protocol is increasing at a rate of one new Dapp every day. The race to the Top The Total Market Capitalization of Ethereum is almost $13 billion more than Tron. The total circulating supply of Tron is 66.68 billion, while the total quantity of Ether (ETH) tokens is 105.5 Million. Therefore, to overcome a difference of 13 billion dollars, Tron would have to gain ten times its current price while the price of Ethereum remains the same. The growth of Tron is exponential. Nevertheless, looking at the current statistic and development of Ethereum, Buterin's Ethereum might have the upper hand on Tron in terms of price. However, the reward vs. risk ratio on Tron is comparatively less than Ethereum at current prices. Moreover, Tron leads in front of Ethereum in terms of technical prowess. Hence, only time will tell whether Justin Sun's claims are really true. What are your views on which platform be the ultimate leader in Dapps and smart contract development?  The post Is Ethereum Really 'A Thing of the Past' As Tron's Justin Sun Claims? appeared first on Coingape.
Twitch, the popular live streaming video platform, quietly removed the option to pay using Bitcoin [BTC] and Bitcoin Cash [BCH] from its platform. This piece of negative adoption flies in the face of a wave of crypto-adoption in several industries. Initially spotted by a member of Bitcoin's Reddit community, the concerned user pointed out that subscriptions could not be paid for via virtual currencies. StreamLabs, a broadcasting software for live stream management, also removed the option to pay with virtual currencies. According to the Reddit post, the video streaming service was facilitating crypto payments through the Bitcoin payment service, BitPay. The post added, "They removed it in the last couple of weeks as a payment method for all countries. Negative adoption strikes again unfortunately." Given below is an Imgur post detailing a user's subscription cancellation, after he paid for it using Bitcoin Cash, Source: Imgur The development was met by a wave of disapproval against Twitch, with some calling for a boycott of the streaming service. While many have speculated about the reasons behind this development, the most realistic seemed to be a lack of awareness about the cryptocurrency payment option and its low transaction volume. Some users called this lack of awareness a "vicious cycle," where companies introduce a cryptocurrency payment option quietly, without notifying the community. As transaction volume drops, the same option is then quietly removed. In May 2018, Twitch began accepting payments in cryptocurrencies. Initially, a slew of coins such as Bitcoin, Bitcoin Cash, Ethereum [ETH] and Litecoin [LTC] were accepted. The larger implications of this delisting must be noted. Twitch is a subsidiary of the e-commerce behemoth, Amazon, following the latter's acquisition of the former in 2014 for around $950 million. As of February 2018, the video streaming service had 2.2 million broadcasters with 15 million unique viewers a day, and 140 million a month. Other notable websites that removed or suspended the cryptocurrency payment option from their respective platforms recently include, Expedia, the travel booking site and Chess.com, the online chess-portal. Bitcoin's Reddit community was enraged by Twitch's quiet listing and delisting of the crypto-payment option. SQLoverride stated, "With so many social platforms shadow banning and demonetizing, the conspiracy side of me thinks maybe it was done because it is more difficult to demonetize someone using crypto." Many questioned the existence of the crypto-option itself, with anonymustanonymust asking, "Did the have Bitcoin Cash or Bitcoin (Core) on the website?" The boycott was advocated by TAPEWlRM, "Unsubbed and shut down Twitch stream. Bad call guys." The post Bitcoin [BTC] and Bitcoin Cash [BCH] no longer payment options on streaming site Twitch appeared first on AMBCrypto.
On the upside, if the bulls break above the EMAs, the crypto's price will resume its bullish trend and retest the $140 resistance level. On the other hand, if the bulls fail to break above the EMAs, the crypto's price will commence a range bound movement below the EMAs. ETH/USD Medium-term Trend: Bearish Resistance Levels: […]