Today KuCoin temporarily closed deposits and withdrawals of Tether (USDT), which might have caused the stablecoin's dramatic plunge down to about $0.92. Currently, USDT is on rebound at $0.97 per token, according to Coinmarketcap
According to the official announcement made by KuCoin at 2 AM UTC+0, its users would temporarily be unable to deposit or withdraw USDT due to wallet system maintenance. This news might have started a wave of critique targeted at Tether, particularly its sore spot that never failed to get mentioned — the insufficient audit of collateral reserves.
PAX/USDT now at $1.0316 and TUSD/USDT $1.0366 on Binance. Tether now valued at $0.96 - $0.97. For those saying that this is normal, it's definitely not and yes, you should be concerned. pic.twitter.com/oEI1ZCUiuE

— Larry Cermak (@lawmaster) October 14, 2018
Another possible cause of the sudden plunge is the rumored delisting of USDT pairs by Binance accompanied by an obviously fake screenshot of Binance's announcement: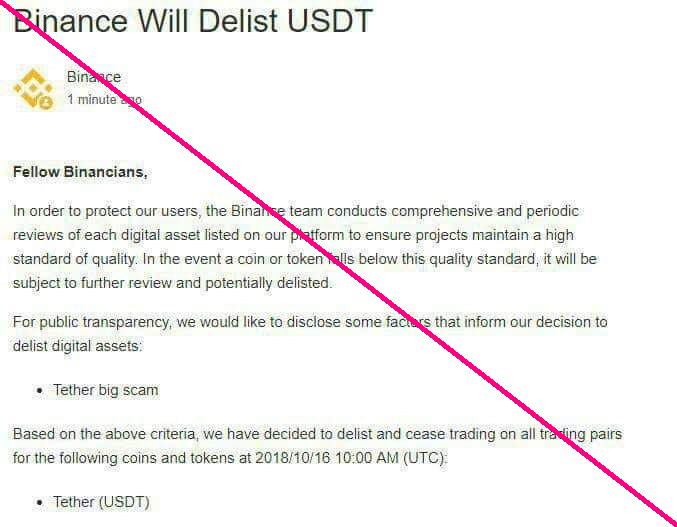 The origin of the rumour and image is unknown but that did not matter and about three hours ago USDT dropped to $0.92, according to Coinmarketcap, which has been the consequence of the massive FUD-fueled sell-off of USDT.
Learned today, short term, launching a fiat exchange that required months of work had less positive impact than FUD about USDT (a single photoshopped fake announcement) on BTC price. But I also know for a fact, long term, hard work wins. Keep building!

— CZ Binance (@cz_binance) October 15, 2018
Meanwhile, KuCoin brought back all USDT operations, according to the tweet of about six hours ago (6:11 AM UTC+0), which some Twitter users deemed suspiciously coincidental.
According to reddit user galan77, this Tether plunge was caused by a whale-scale purchase of BTC. For a focused discussion, visit the reddit thread.
In the past Tether did have fluctuations of similar magnitude but quickly stabilized. Three months ago USDT reached the all-time high of $1.32. The recent plunge did not go below the all-time low of $0.91 that happened last year in April. Currently, Tether is climbing back at $0.97 per token.