Ripple is a real-time gross settlement protocol, currency exchange and remittance network. Ripple Labs, the company developing Ripple, seeks to revitalize bank interoperability by providing an interledger infrastructure (xCurrent), a liquidity layer for fiat currencies (XRP-powered xRapid), and an API to access these services (xVia)
Ripple Labs
Before we can understand Ripple, we first need to talk about the company behind it. Originally branded as OpenCoin, Ripple Labs is a software company based in San Francisco.
The idea of a decentralized monetary system came to Ryan Fugger back in 2004. He later built the first iteration of the system, RipplePay.com. In 2011 Ryan left the project and handed it over to Jed McCaleb and Chris Larsen, who co-founded OpenCoin in 2012. In 2015 the company was renamed to Ripple Labs, Inc.
Ripple Labs has three major projects: xCurrent, xRapid, and xVia, which combined together form the Ripple ecosystem powered by RippleNet, a network of banks and financial institutions. RippleNet nodes establish consensus over the network via Ripple Protocol Consensus Algorithm.
xCurrent
xCurrent allows banks to instantly settle cross-border transactions in highly-liquid fiat pairs like USD/EUR or USD/JPY. xCurrent is built around the Interledger Protocol (ILP), an open, neutral protocol which connects different ledgers and payment systems. xCurrent provides an automated process that ensures all payments are properly tracked and accounted for. xCurrent consists of four components:
Messenger
The xCurrent messenger is a bidirectional messaging API that lets banks communicate prior to initiating the transaction and exchange essential information such as KYC and risk information, fees, payment details and expected time of funds delivery. If information is missing or incorrect, the parties will not know it in advance.
ILP ledger
ILP ledger is a subledger of each transacting bank's ledger. It monitors credits, debits and liquidity across the transacting banks to make sure the transaction is possible. ILP ledger provides atomicity to the system, meaning transactions are either settled instantly or not at all. Atomicity removes any settlement risk because the payment either processes entirely or fails upfront.
Validator
Validator confirms the success or failure of the transaction using cryptography. Validator coordinates the movement of funds across ILP ledgers, removes all settlement risks and minimizes delays in delivery. Validator provides the single source of truth for the transacting parties while preserving the privacy of their information. A bank can run its own Validator or rely on a Validator run by the transacting counterparty.
FX ticker
FX ticker helps convert fiat currencies in an efficient manner. FX ticker facilitates the exchange of funds between currencies.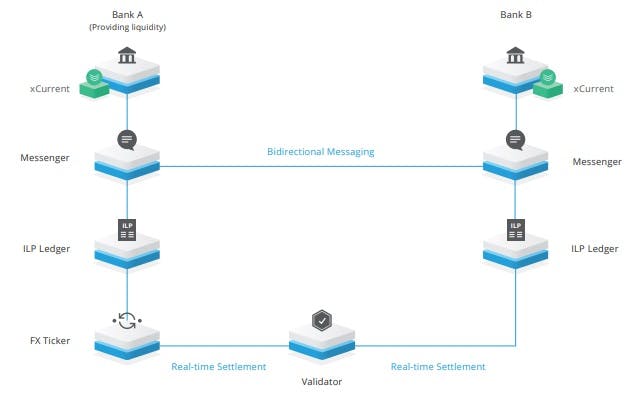 xRapid…
… and its asset XRP
xRapid is Ripple's solution for value transfer in low-liquidity fiat pairs. It seeks to minimize liquidity costs and improve customer experience.
xRapid relieves banks from the necessity of having pre-funded accounts in developing countries. xRapid utilizes its own asset, XRP, and a distributed ledger, the XRP ledger, to serve as a source of liquidity for any fiat pair.
The XRP ledger acts as a transitional liquidity layer between two fiat currencies. A typical xRapid transaction takes about four seconds to process and includes four steps:
sender initiates and confirms a transaction in Currency A from Country X,
funds in Currency A are converted to XRP,
funds in XRP are converted to Currency B,
receiver in Country Y receives funds in Currency B.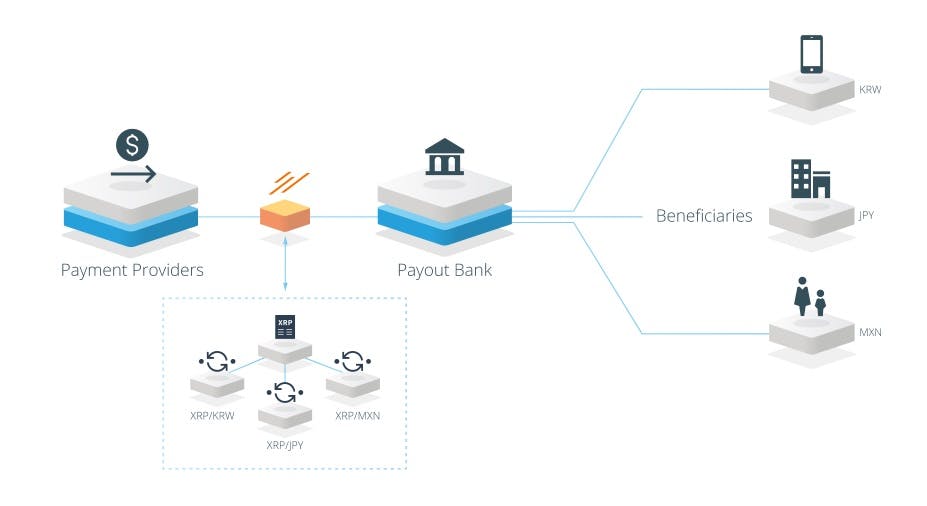 xVia
xVia is an API that ties the Ripple ecosystem together. Using xVia, companies will be able to connect to RippleNet and send payments across various networks around the globe in an instant.
xVia does not need installation and works like a browser extension. xVia is in its development stage.
Trivia
XRPs cannot be mined as the entire supply of 100 billion XRP was pre-minted. Ripple Labs is said by various sources to own more than half of it.
Ripple Labs does not own RippleNet, and it can operate without the company.
Jed McCaleb left Ripple Labs in 2013 and co-founded Stellar, a distributed payments infrastructure.
Ripple is often criticized for its centralized structure which relies on trusted validators.
Many doubt the necessity of the XRP token as an integral element of the network.
XRP is currently the third crypto asset by market capitalization.
In January 2018 XRP set all-time-high at $3.4.
A transaction in XRP costs 0.00001 XRP.
Massachusetts Institute of Technology is one of the validators on RippleNet.
xRapid went in commercial production on October 1, 2018.
Links
Technical info
Ripple Protocol Consensus Algorithm
Community
Help