The number of Bitcoin-based futures contracts can't stop growing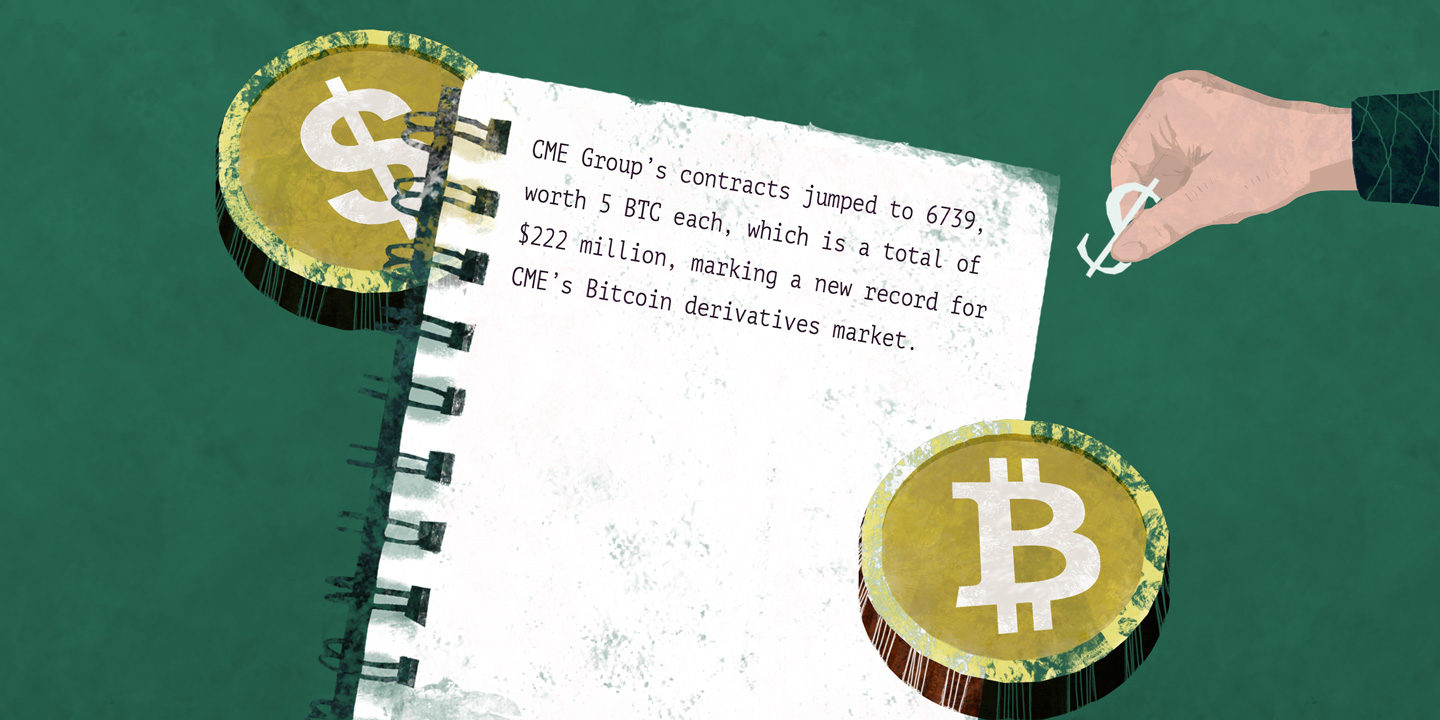 However, it's still not even close to the record-setting 18,000+ contracts Cboe derivatives exchange recorded on April 25, 2018
Related news
Crypto Darknet Transactions Boomed In 2018 Since Bitcoin (BTC) burst onto the global stage in 2009, the cryptocurrency, known for its decentralized, immutable, censorship-resistant, pseudonymous, and borderless nature, has become a medium for transactions of all shapes and size. And just like U.S. dollars and other government-issued currencies, BTC has found use cases in illicit transactions. Whether it be purchasing questionable goods or otherwise, the flagship cryptocurrency has found a place. Per a recent report by the way of Reuters, which cited data gathered by Chainalysis, a leading blockchain data analytics consortium, Bitcoin-related transactions on darknet markets, which offer fake IDs, over-the-counter drugs (recreational), among other articles of contraband, have risen dramatically since January 2018. This rally in darknet-related transactions comes as BTC fell from an all-time high of $20,000 to a yearly low of $3,150 in late-December. It isn't clear how the analytics group, which is often employed by governmental agencies to weed out bad actors, discerned 'normal' transactions from those questionable, but Chainalysis revealed that $2 million per day worth of BTC were routed through the darknet's peer-to-peer marketplaces. Overall, $600 million was spent on darknet markets throughout 2018, compared to $700 million in 2017. While the decline in transaction value could be seen in a negative light, considering BTC fell by over 70% within the same time period, a 14.3% drop is relatively mere. Kim Grauer, a senior economist at Chainalysis, chalked the slight decline in darknet transactions to the closure of AlphaBay and Hansa, two "major markets," in mid-2017, which purportedly stunted flows into early-2018.  Grauer added: The reason for that drop is more law enforcement activity… It would be misleading to think that this year it (the volume) will go down. Why This Stat Is Bullish For Bitcoin So you may be gandering at the title and thinking, why is this non-innocuous statistics an optimistic sign for BTC and the broader cryptocurrency market/sector? Well, let me explain. Although I do not agree with (much of) what goes on via the darknet, the rise in 'illicit' transactions underscores a forward-thinking, bullish Bitcoin trend. More specifically, the monumental growth of Bitcoin's underlying multi-faceted fundamentals throughout 2018. So make no mistake, while the collapse in price is harrowing, people are still using BTC in transactions, not just pure speculation. Per previous reports from Ethereum World News, data compiled by Jameson Lopp, the chief technology officer of Casa, accentuated that from a fundamental perspective, 2018 was Bitcoin's best year yet. Hashrate doubled, while a cumulative $410 billion in value was transacted on the "world's most secure transactional settlement layer." Bitcoin's scaling solutions also saw notable levels of adoption. SegWit, a short-term, 'bandaid-esque' solution that squeezes more transactions into blocks, saw use swell from 10% to 40% over 2018. The Lightning Network, a long-term scaling solution that takes advantage of off-chain ledgers to facilitate effectively free, low cost, scalable, immutable, and private transactions, swelled to 500+ BTC capacity. And while 2019-specific statistics are scant and hard to come by, preliminary data indicates that the following 12 months will continue to see the flagship cryptocurrency & blockchain network continue to gain traction. This isn't baseless speculation. Per our previous reports, Coinstar, a North American kiosk provider with tens of thousands of offerings across the U.S. & Canada, recently joined hands with Coinme, a Bitcoin ATM upstart, to implement their services into Coinstar's terminals. Now, over 20,000 kiosks can buy BTC with their spare change. Title Image Courtesy of Noah Silliman Via Unsplash The post Bitcoin (BTC) Darknet Transactions Doubled In 2018: Why This Is Bullish appeared first on Ethereum World News.
The US Securities and Exchange Commission (SEC) has frozen all pending administrative proceedings due to the government shutdown. According to a legal expert, however, the Commission is not allowed, by law, to delay the decision on VanEck/SolidX Bitcoin ETF past its current deadline.  No More Delays Despite Government Shutdown The SEC has issued an order on January 16th, putting all pending administrative proceedings on hold because it has "experienced a lapse in appropriations." According to the documents, all proceedings which have to face a hearing before the Commission or an administrative law judge, are currently frozen. Jake Chervinsky Legal expert Jake Chervinsky said that even though the SEC has been shut down before that order, administrative proceedings were still in motion, hence deadlines were unaffected. Now that the SEC has stayed all administrative proceedings, interested parties may file a motion to dismiss the stay if their proceedings are an exception of the activities stated in the order. Bitcoinist reported that the SEC needs to come up with a decision on the approval of the CBOE-backed VanEck/SolidX Bitcoin ETF by February 27, 2019. Irrespective of the newest order, the SEC isn't allowed to further delay its decision, the legal expert holds: This does not change anything about the ETF deadline, which is imposed by the statute and cannot be delayed further. This does not change anything about the ETF deadline, which is imposed by statute and cannot be delayed further. I stand by the following:https://t.co/1EpAv1B0Nm — Jake Chervinsky (@jchervinsky) January 17, 2019 The commission has already delayed its decision multiple times, with the last one happening in December. SEC's shutdown saw mounting rumors that the Bitcoin ETF might get automatically approved if the commission misses the deadline. While this is true in theory, Chervinsky recently dismissed the possibility, saying that "in reality, it would never happen." It's true that a proposed rule change is auto-approved if the SEC doesn't make a decision by the deadline, but in reality it would never happen. The SEC has enough staff to put out a decision, even if it's a one-pager saying 'denied for reasons to be explained later. Chervinsky, who's also a frequent commentator on cryptocurrency-related matters, has previously said that the chances of a Bitcoin ETF approval are down to 10%. What do you think about the chances of a Bitcoin ETF approval? Don't hesitate to let us know in the comments below! Images courtesy of Shutterstock, Twitter@jchervinsky   The post Gov't Shutdown Freezes SEC Activity, But Bitcoin ETF Date Unaffected appeared first on Bitcoinist.com.
Bitcoin use on darknet markets (DNMs) doubled in 2018, a study has shown, rising to an average of $2 million per day. Bitcoin has long been used to buy goods on the darknet due to its relative anonymity, and looks set to remain a favorite on DNMs, despite the existence of more privacy-focused cryptocurrencies. Also read: Dropgangs and Dead Drops: Report Highlights Evolving Darknet Market Opsec DNM Activity Rose Through 2018 A study released by data firm Chainalysis has revealed that bitcoin transactions on the darknet rose throughout 2018 to around $2 million daily, which is nearly double the activity measured at the start of the year, Reuters reports. But over the course of the entire year, bitcoin flowing into darknet markets actually fell to $600 million from $700 million in 2017. This drop was reportedly due to major darknet sites such as Alphabay and Hansa getting shut down. The marketplaces sold everything from guns and illegal drugs to fake IDs. Despite these major successes for law enforcement, transaction volume has continued to rise on the darknet and is set to further grow, Kim Grauer, a senior economist at Chainalysis claims. She asserts that bitcoin's volatility has done little to stop people dealing with it, saying: "For someone who wants to buy something on a dark marketplace, the fact that the bitcoin price is fluctuating doesn't really matter." DNMs Remain Resilient It doesn't look like darknet marketplaces will be going anywhere anytime soon. As noted in a blog post by Chainalysis, it is incredibly hard to shut down such sites: "Darknet market activity has been remarkably resilient over the last few years, despite continued efforts by law enforcement to shut down illicit activities. When one darknet market closes, others pop up to take its place." The blog post adds that although darknet market activity fell by 60 percent after Alphabay closed in mid-2017, the slowdown was "short-lived." Much of the trade from Alphabay has since moved to Dream. Chainalysis has actually claimed there is "some evidence that darknet activity even increases after closures." As news.Bitcoin.com reported this week, the hidden market ecosystem exploded since the closure of Silk Road – the first DNM – and increasingly sophisticated methods are being developed to outwit law enforcement. Methods like 'dropgangs' and 'dead drops' are being used to evade the clutches of the three-letter agencies. What do you think about the use of bitcoin on darknet marketplaces? Let us know what you think about this subject in the comments section below. Image credits: Shutterstock. Show the world how cutting-edge you are with a Bitcoin Cash T-shirt, hoodie, bag, key-ring, even a Trezor hardware wallet. Shipping all over the world, quality merchandise and, of course, a payment system that makes people say "wow"! The post Report: Bitcoin Use on Darknet Markets Doubled in 2018 appeared first on Bitcoin News.