The number of Bitcoin-based futures contracts can't stop growing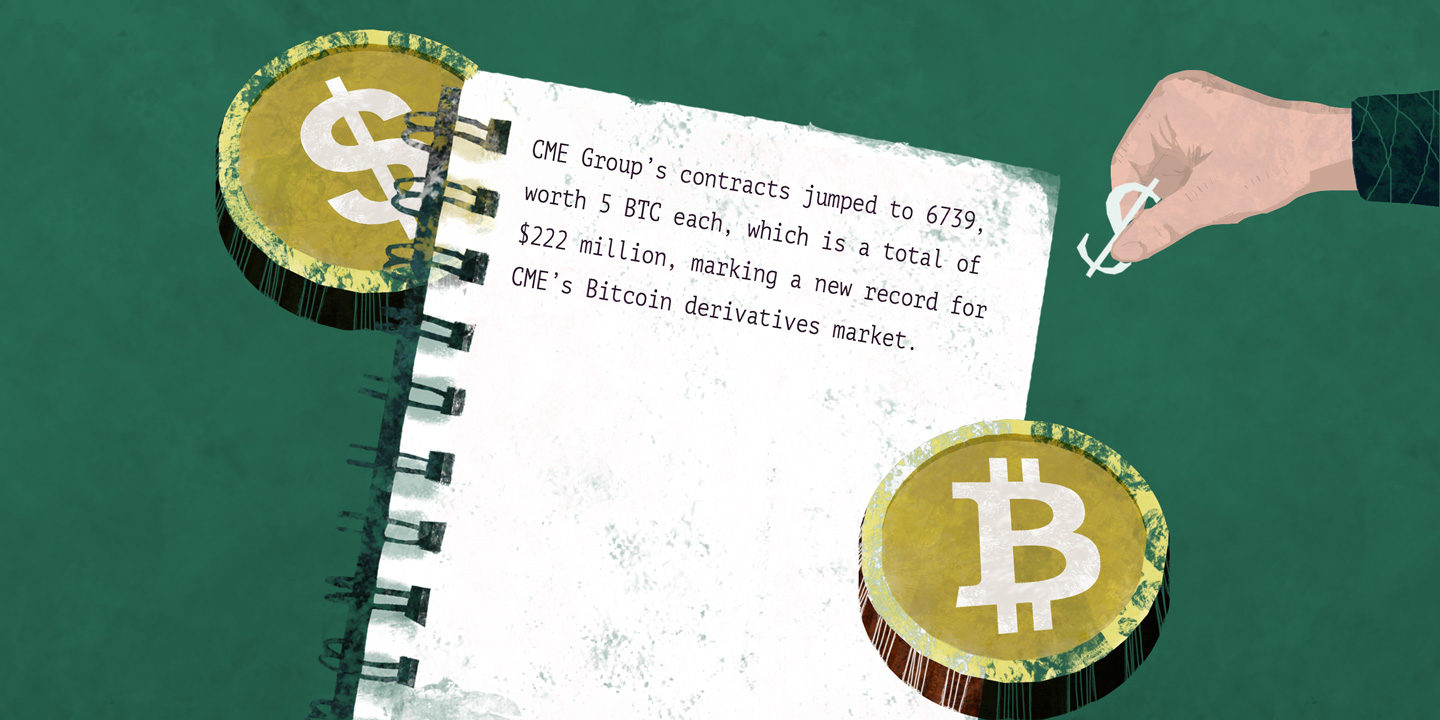 However, it's still not even close to the record-setting 18,000+ contracts Cboe derivatives exchange recorded on April 25, 2018
Related news
Recent reports seem to indicate that, believe it or not, Bitcoin (BTC)'s short-term prospects in this market are limited, as crypto analysts await the holy grail of trading sessions — the fabled "altseason." With this phase of trading, analysts expect for Bitcoin's hegemony over the broader industry to slip, as stakeholders flee to alternative digital assets in search of hefty profits. But a researcher claims that traders are getting this all wrong. Bitcoin Losing Steam To Other Crypto Assets? In recent weeks, cryptocurrencies, save for BTC, have posted stellar gains in and of themselves. Litecoin has rallied by 160% since its bottom in December, Cardano is up by 24% in the past weeks, and other assets are posting movements that resemble those seen in 2017's rally. This price action, which has come seemingly straight out of left field, has depressed the Bitcoin market dominance reading, which has struggled ever since the parabolic rally seen over yesteryear. Sure, the reading has recovered from a 32% bottom to 50% where it stands now, but it's a far cry from the 58% seen in late-2018. And some expect for this to continue, as they see much more value in blockchains not only known for being a store of value, like Bitcoin. Related Reading: Researcher: Bitcoin Will Easily Surpass Market Cap of Gold at $8 Trillion One trader going by the moniker "Galaxy" remarked that he wouldn't be surprised Bitcoin's share of the cryptocurrency space falls to under 30%, citing the weak dominance uptrend to claim that the impending altseason will relatively pummel BTC. No, Maybe Not JP Thor, a leading industry researcher & Bitcoin diehard, argued that no, CoinMarketCap and similar data aggregators are getting their readings all wrong (as normal), along with those commentators quipping that BTC is rapidly losing traction. In an extensive Medium post, titled "Bitcoin's Market Dominance," Thor remarked that the classical method of using market capitalization to weigh an asset's dominance is flawed. I just published Bitcoin's True Market Dominance https://t.co/Ikts82v19u — JP [ ₿] (@jpthor__) March 22, 2019 Thor remarks that if you take volume (liquidity) into account, which he did through aggregating 12 months of trading activity, Bitcoin is far from dead in the water. The researcher writes that Bitcoin's dominance in the form of liquidity is actually well above the 50% gauged by market capitalization. In fact, Bitcoin has a consistent dominance reading of over 80%, which has only trended higher in this downturn. Ethereum, on the other hand, has a measly ~7%, while altcoins take up the rest of the proverbial pie.  And with that, it was concluded: "In fact, just taking into account the Top 5 coins, Bitcoin (the 20%) captures over 85% of the market… CoinMarketCap's 'Market Dominance' is flawed since it does not factor in liquidity and the reported 55% is significantly understated." Sentiment-wise, industry leaders seem to think that BTC will keep on this market for the rest of its lifespan. Phil Chen of HTC's Exodus (crypto) division told NewsBTC that he thinks that Bitcoin is fundamentally the core of this industry, so it would thus be irrational to ignore it or cast it aside. Featured Image from Shutterstock Bitcoin Dominance Wanes In Crypto Recovery, But Researcher Says This Isn't The Case was last modified: March 24th, 2019 by Nick ChongThe post Bitcoin Dominance Wanes In Crypto Recovery, But Researcher Says This Isn't The Case appeared first on NewsBTC.
Erik Voorhees, the CEO of ShapeShift and a well-known influencer, spoke about the cryptocurrency price bubble and the bear market, in an interview for WhatBitcoinDid. Voorhees stated that this was the fourth time he experienced the cryptocurrency bear market, adding that he has been in the space "pretty much" since the beginning. He further added that the bear market "gets bigger" and "more intense" compared to the previous one as the numbers and the impact are bigger. "[…] the first bubble I was in, early mid 2011, was bigger in terms of percentage gain but the industry was small back then, the people talked in terms of hundreds of thousands of dollars not multi-billion dollars. This is a big industry at this point and when this whole industry rises by a 100x in 2017 and then collapses back down by 90x, it has a big effect" Voorhees went on to state that he was the "least worried" about recovering from the 2017 bubble because the industry has made "so much progress," which has resulted in the evolution of better technology. He said: "[…] I don't know if markets will get crazy again in a month or in two years but they will get crazy again and so we sit here and we build and we get ready for that […] I mean, you have to understand the perspective I come from like back in 2011, we imagined some day maybe in our fantasies that this industry would be what it is today" He then went on to state that likelihood of Bitcoin becoming successful was "so tiny" during its initial days, in comparison to recent times. "[…] we are not mainstream yet but we are we are getting there and most people in the world those people in at least in the Western world in modern society are familiar with Bitcoin they've heard of it it's not the strange alien thing anymore." The post Bitcoin [BTC] success rate was "so tiny" in its early days compared to recent times, says ShapeShift CEO appeared first on AMBCrypto.
In theory, this would be an excellent time for altcoins to mount a very strong comeback while Bitcoin remains bearish. However, ensuring such gains materialize is often a very different matter. The Dogecoin price puts up a valiant effort in this regard, although it too notes minor losses. For now, the $0.002 level hasn't come under too much pressure as of yet. Dogecoin Price Momentum Offers More of the Same It is never a bad thing to see some of the top cryptocurrencies either maintain their value, or note the tiniest of losses when Bitcoin turns bearish again. Dogecoin often checks the right boxes in this regard, although it can also make for a boring market, according to some traders. Even today, the resilient altcoin notes small losses and successfully maintains its price above $0.002 without too many problems. Over the past 24 hours the net balance for DOGE is neither terrible nor promising. Following a 0.8% decrease in USD value and a 0.5% deficit in BTC value, the current Dogecoin price sits at $0.002045, or 51 Satoshi. Especially this latter value is of great interest to traders, as they mainly seek to increase their Bitcoin holdings. Although the Tor project confirmed they are now accepting cryptocurrency donations, Dogecoin is one notable exception on that particular list. On paper, it would make a lot more sense to accept Dogecoin over the likes of Augur, for example. It will be interesting to see if DOGE gets added tot he list at some point, but for now, that is not the case. You should add #dogecoin to the list ;;;) — Jordan Lyall (@CornierKhan1) March 24, 2019 Another interesting rather recent development is how Travala accepts Dogecoin payments. Consumers looking to book travel or accommodations through this platform can pay in DOGE, which can potentially introduce a lot more use cases moving forward. It is unclear how popular the supported currencies are on an individual basis, but having Dogecoin on the list is a big nod of approval in its own regard. You can use #dogecoin with @travalacom to book hotels globally. The places you will go, the things you will see, Dogecoin accepted everywhere you want to be. pic.twitter.com/SyiFoDjoQH — Dogecoin (@dogecoin) March 24, 2019 One can usually leave it up to the Dogecoin community to come up with some creative ideas and connections. Kenneth Fax is an interesting example in this regard. This user feels everyone who likes National Puppy Day should also love the passion for Dogecoin. A bit of an odd correlation, although there is some argument to be made as well. If you like #NationalPuppyday2019, then you must love the passion for #Dogecoin, right? — Kenneth Fax (@ikenfax) March 24, 2019 While the current market momentum seemingly offers nothing to be excited about, Dogecoin remains one of the more stable markets in the top 30. When the momentum turns bearish, it doesn't budge much. The same applies to overarching bullish moment, unfortunately, but one has to take good with the bad in this industry. How this market will evolve over the coming days, remains a mystery. Disclaimer: This is not trading or investment advice. The above article is for entertainment and education purposes only. Please do your own research before purchasing or investing into any cryptocurrency. Image(s): Shutterstock.com The post Dogecoin Price Gives up Little Ground as Bitcoin Remains Bearish appeared first on NullTX.