Have a look at the data on several ICO projects of the past two weeks (34-35 Weeks of 2018) ranked below in order of money raised: Sword Coin, 4ARTechnologies, Iryo Network and WatermelonBlock; OSA DC, ELCoin, Monetizr, ZeroBank and Celes Chain.
The data is taken from websites with open data, at the moment of publication. The given information helps to grasp an overall dynamics of the market at large. Keep in mind, some data can be updated with delay. If you are an investor, we recommend you to turn to the ICO representative for real-time data.
Sword Coin (SWD)
Raised funds: 9.9% ($20,660,000)
Implementing features of Financial Services and Trading, with the access to existing userbase of Sword Capital brokerage software. Ended, soft cap reached.
4ARTechnologies (4ART)
Raised funds: 8.3% ($17,319,000)
A blockchain-powered cataloguing and transactions platform, helping users to maintain all ownership certification, lending, restoration, transportation and insurance coverage related to an artwork. Pre-Sale is active, €18,273,808 raised by now.
Iryo Network (IRYO)
Raised funds: 7.6% ($15,800,000)
A participatory, blockchain-based healthcare network that decentralizes access to medical data. Ended with $26,000,000 raised.
WatermelonBlock (WMB)
Raised funds: 3.2% ($6,745,642)
Scanning social and global media platforms, ranking the market sentiment of top cryptocurrencies and ICOs, applying AI. Ongoing.
Other ICOs raised 69.0% ($143,596,344) by Week 35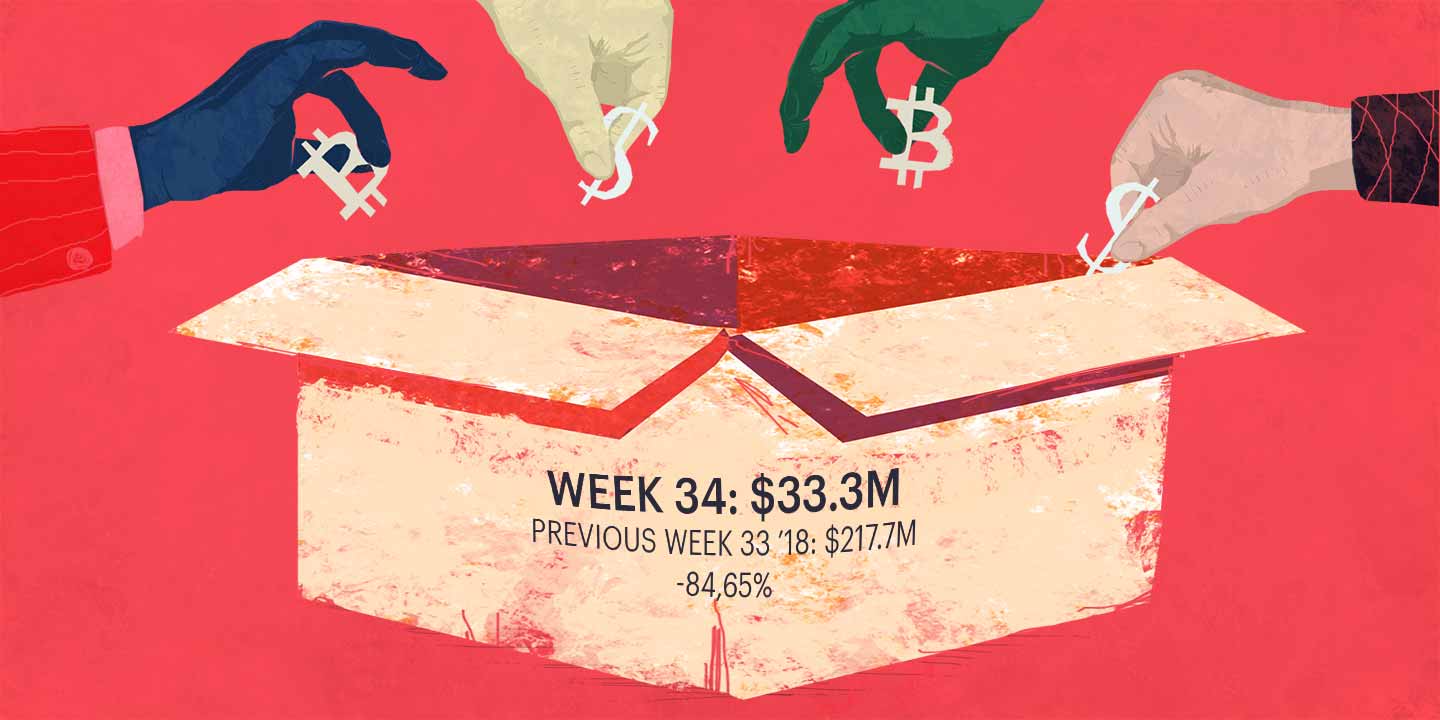 Note: unless stated otherwise, the data refers to Week 34, and is given for comparison with the previous Week 35
OSA DC (OSA)
38.5% ($12,810,000)
An AI-driven marketplace. Now ended with $13,340,000 of $40,000,000 (33%) raised.
ELCoin (ELC)
7.5% ($2,500,000)
Medical equipment production.
Monetizr (MTZ)
6.3% ($2,100,000)
A game reward engine.
ZeroBank (ZB)
12.0% ($4,000,000)
Applying own tokens as collateral instruments of money transfers and conversions. Now ended with $48,000,000 raised.
Celes Chain (CCHN)
19.6% ($6,506,900)
A public chain driven by financial services/applications and providing access for regulators and policy makers. Ongoing.
Other ICOs raised 16% ($5,335,238) by Week 34